While the doors to our beloved venue remain closed and the whole world as we know it seems to have turned upside down, we wanted to continue to do what we love doing! So…. we are very proud to present "Virtually Green Note… in the round"… a series of specially-curated, unique online musical events that will run every Wednesday and Friday evening at 8pm (UK time), streamed live to our website, our YouTube and Facebook page.
If you watch this show (and are able to) we would like to like to ask you to make a donation via our PayPal link and support the musicians during this difficult time. All the money raised for each show, will be divided  between the venue and the three artists playing on this date. Please know that we, and all the musicians involved, are incredibly grateful for the support of music-loving audiences… and it enables us to keep doing what what we do!
Suggested donation £10, but any donation will be much appreciated. Thank you!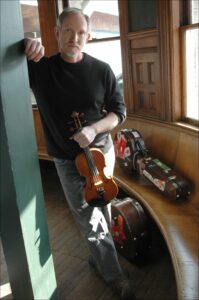 BRUCE MOLSKY: Today, Bruce Molsky is one of the most revered "multi-hyphenated career" ambassadors for America's old-time mountain music. For decades, he's been a globetrotting performer, ethnomusicologist and educator, a recording artist with an expansive discography including seven solo albums, well over a dozen collaborations and two Grammy-nominations. He's also the classic "musician's musician" – a man who's received high praise from diverse fans and collaborators like Linda Ronstadt, Mark Knopfler, Celtic giants Donal Lunny and Andy Irvine, jazzer Bill Frisell and dobro master Jerry Douglas, a true country gentleman by way of the Big Apple aptly dubbed "the Rembrandt of Appalachian fiddlers" by virtuoso violinist and sometimes bandmate Darol Anger.
Molsky digs deep to transport audiences to another time and place, with his authentic feel for and the unearthing of almost-forgotten rarities from the Southern Appalachian songbook. Molsky seduces audiences with a combination of rhythmic and melodic virtuosity and relaxed conversational wit – a uniquely humanistic, downhome approach that can make Carnegie Hall feel like a front porch or intimate jam session.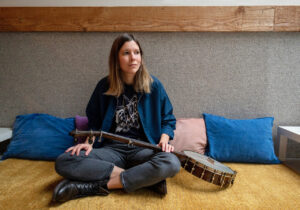 ALLISON DE GROOT: Allison de Groot combines love for traditional music, technical skill and a creative approach to the banjo forming her own sound – unique and full of personality.  Her collaborations with Bruce Molsky, Tatiana Hargreaves, Nic Gareiss and The Goodbye Girls provide spaces to explore the role and depth of clawhammer banjo.
"Allison de Groot is the kind of artist who's virtuosity is built on her strength as a player, performer, composer, and on her appetite for new (and old) ideas. She's transforming the banjo in a beautiful way, both for herself and for others who enter her musical space." Bruce Molsky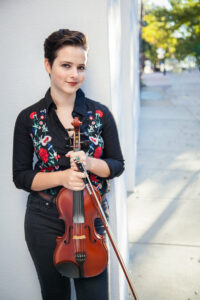 TATIANA HARGREAVES: Over the past eight years, Tatiana Hargreaves has been on the forefront of an up and coming generation of old time, bluegrass and new acoustic musicians. Since releasing her first solo album "Started Out To Ramble" in 2009, Tatiana has toured with musicians such as Dave Rawlings, Gillian Welch, Laurie Lewis, Darol Anger, and Bruce Molsky. From placing first at the Clifftop Appalachian Fiddle Contest, to her bluegrass fiddling on Laurie Lewis' GRAMMY-nominated album The Hazel And Alice Sessions, Hargreaves shows a musical fluency that flows between old time and bluegrass worlds with ease. She currently tours with banjo extraordinaire Allison de Groot and teaches bluegrass fiddle at the University of North Carolina in Chapel Hill.