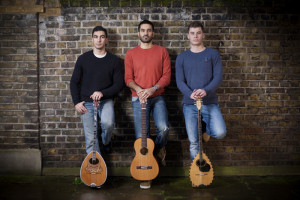 Megla is a group of three Cypriot musicians, with a passion for interwar Rebetiko. They focus on the music that flourished in the urban areas around the port of Piraeus and its surroundings, after the arrival of Asia Minor refugees in 1922, up until the beginning of the Second World War. Poverty, petty crimes, drugs and troubles with the police are all reflected in their repertoire, together with the passion of the Rebetes for women, love and, above all, their music.
For this exclusive concert, they will perform a special set list, covering many of the early Rebetiko composers, including Tountas, Skarvelis, Semsis, Dellias, Vamvakaris and others.
Band/Musicians: Megla
Theodoulos Charalampous – Bouzouki/Baglama/Vocals
Simon Mercouris – Bouzouki/Laouto/Vocals
Iacovos Kirlappos – Guitar/Vocals
An instrument exhibition by the luthier Christos Spourdalakis will be available during the event. Trying & purchasing will be possible.
What is Rebetiko?: Rebetiko is the music of an urban sub culture of musicians called "rebetes". Although they openly emerged in Greece in the 1920's, rebetiko music is a rich synthesis of music from all over Greece that expresses the pain and suffering of the people at the time. In a heartfelt way of reflecting life, these songs can be full of humour and profound beauty.
Rebetiko Carnival 2016: The Rebetiko Carnival will be taking place throughout the month of June to celebrate the music of rebetiko. It will bring together people from different backgrounds and nationalities through their common love for this music, performing concerts and providing workshops.
Outreach work for people with special needs, the elderly, and participants in hospitals is a huge part of the festival. Providing access to the music for those who are not able to attend. We will also be working closely with schools to promote awareness of the music and its culture to children, in turn helping them to create their own bands whilst also giving them the opportunity to perform in the festival.