Songwriter and fingerstyle guitarist JASON MCNIFF has just released his 7th LP, 'Dust of Yesterday' and plays his first London show for nearly 2 years. Garnering wonderful reviews in the press – 4 stars in MOJO and The Times – the new album is making big waves in the world of folk and Americana with Jason marrying the western lyricism of Townes Van Zandt with the very English guitar wizardry of Davy Graham.
Come along tonight and see why Janice Long from BBC Radio 2 recently called him 'An Immense talent'!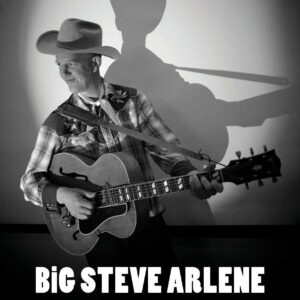 BiG Steve Arlene, Norfolk based band leader, Future Radio DJ and all-round tall bloke tells a good story and always has some of the finest musicians around to jam with and accompany on stage. Norwich is home now and has been for 10 years. Although Steve had success with the Arlenes and with the western & rockin' Shooting Stars, he's mainly kept the groove alive locally with a little trio including piano and harmonica. Solo at the Green Note Steve can show his lazy fingerpicking style and powerful voice to display the catalog of home spun tunes!