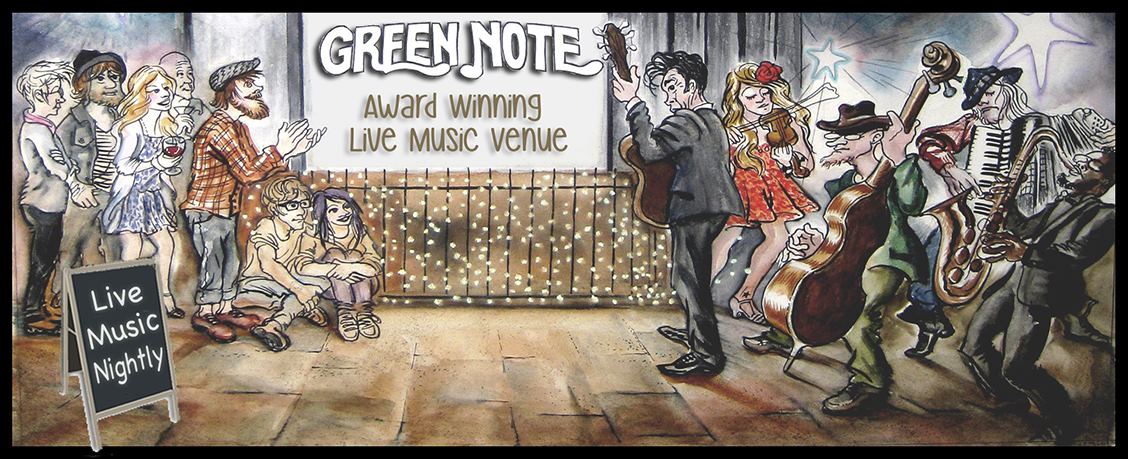 Buying Tickets
All our listings can be found on the live EVENTS page, which is updated regularly. Advance tickets for our events can be purchased online via our website (until 6pm on the day of the show) or in person at the venue (during opening hours). We're a very intimate venue with a limited capacity and many of our events sell out. We strongly recommend buying in advance to avoid disappointment. If an event is not sold out in advance, we will release any remaining tickets for sale on the door on the night. Door tickets usually cost around £3 more (per ticket) than advance tickets and we can only accept cash payments on the door. 
All our online tickets are e-tickets. When you purchase a ticket you will be sent a confirmation email and your name will be added to our ticket list. Please make a note of the reference number and bring it with you on the night of the performance. Please see the EVENTS page to buy tickets.
Seating and Reservations
The venue comprises both seating and standing space. Seating is limited and allocated on a first come first served basis and usually fills up quickly, so if you'd like a seat we recommend arriving early! We don't take table reservations – the only way to get a seat is to ensure you arrive early. (Doors open 7pm for main venue and 7.30pm for Basement Bar).
Opening Hours
Monday – Sunday: 7pm – 11pm

(and 1.45pm – 5pm when we have matinées… these are listed on the events page)
The Basement Bar is open from 7.30pm (on selected nights only – please see 'events' page)
Event Timings
Doors open at 7pm in the main venue. Music usually starts at 8.30pm, finishing around 10.30pm (sometimes a little later). 
For events in the Basement Bar, doors open at 7.30pm and music starts at 8pm, finishing around 10pm. 
There are a few exceptions to this, and some nights when music starts earlier. Timings are specified on the event listing.
All gigs will be finished by 11pm, when we close the bar.
Refund Policy
Tickets are generally non-refundable. However, in some cases if you have purchased a ticket and are unable to attend (ie. if a show is already sold out and we have a waiting list), we may be able to provide a credit note. Please see our full refund policy  for more details.
Sold Out Events
In the event that a show sells out, please feel free to email us with a contact number and we will add you to a waiting list and let you know if any tickets become available. We sometimes get returns on the day or less guests than expected, so tickets do sometimes become available.
Wheelchair Access
We often have wheelchair users attending our main venue – it is all on one level, so access is possible. Unfortunately however, we don't have accessible toilets, although one of our toilets is large enough to accommodate a wheelchair. If you are a wheelchair user and planning to come to one of our events, we would suggest contacting us in advance, so we can reserve a suitable space for you. 
Please Note: due to the steep staircase, there is no disabled access to our Basement venue.
Age Policy
Green Note is family friendly and music lovers of ALL AGES are welcome! Children should be accompanied by a responsible adult.
For our 'Green Note hits the road' shows that take place at other venues (eg: The Water Rats, Bush Hall, St Pancras Old Church, The Lexington, 100 Club, Paper Dress Vintage etc.), please check age policy with the relevant venue (most of these tend to be 18+).
Work at Green Note
Would you like to work at Green Note? We have part-time vacancies that come up from time to time – working at the bar, on the door or as a sound engineer. 
If you are interested in finding out more, please send us your CV together with a covering letter telling us a bit about yourself, why you'd like to work at Green Note as well as some details of your relevant work experience. 
Getting Here
For information on getting to Green Note please see the
CONTACT
page.
Privacy Policy
Privacy Policy

Green Note is committed to protecting your privacy. We will use the information that we collect about you in accordance with the General Data Protection Regulation (GDPR).
We respect your privacy and we are committed to protecting your personal information as that term is defined in the Act ('Information'). We comply with the principles of the Act and aim to maintain consistently high levels of best practice in our processing of your Information.
Who we are
Green Note Limited (referred to in this notice as Green Note) is a company incorporated in England and Wales with registered number 04978923. Green Note is an independent live music venue in Camden Town, London, England.
This Privacy Policy sets out details of the Personal Information that Green Note collects from you and how we use that Personal Information. We also explain your rights and how to contact us if you have any questions about your Personal Information.
What information we collect
We collect your name and email address.
We keep a record of the emails we send you, and we may track whether you receive or open them so we can make sure we are sending you the most relevant information. We may then track any subsequent actions online, such as purchasing a ticket.
We also may collect:
Records of your interactions with us (e.g. if you contact us via email or interact with us on social media);
Information you provide when you attend or book an event held by us or at our premises;
Information you provide us when you enter a competition or participate in a survey;
Information collected automatically using tracking technologies (e.g. which pages you viewed and whether you clicked on a link in one of our email updates) such as Google Analytics. We may also collect information about the device you use to access the Green Note Website (GN Site) (www.greennote.co.uk).
We also receive Personal Information about you from third parties, such as information provided by:
third parties who sell event tickets for us, who collect personal data relating to you and your purchase on our behalf;
third party promoters who promote events at Green Note where you have expressed an interest in GN.
Embedded content from other websites
Articles on this site may include embedded content (e.g. videos, images, articles, etc.). Embedded content from other websites behaves in the exact same way as if the visitor has visited the other website.
These websites may collect data about you, use cookies, embed additional third-party tracking, and monitor your interaction with that embedded content, including tracing your interaction with the embedded content if you have an account and are logged in to that website.
Sensitive personal data
Data Protection law recognises that certain categories of personal information are more sensitive such as health information, race, religious beliefs and political opinions. We do not collect this type of information about our patrons.
When we collect your information
We collect your information when you purchase a ticket, sign up for our e-newsletter or to receive our publications, or communicate with us.
Data Breaches
In the event of a data breach, in accordance with GDPR regulation, we will disclose to the ICO regulator within 72 hours.
Third parties
There are certain circumstances under which we may disclose your personal information to third parties. These are as follows:
To our own service providers who process data on our behalf and on our instructions (for example, our mailing list service provider, www.ymlp.com). In these cases we require that these third parties comply strictly with our instructions and with data protection laws, for example around security of personal data.
Green Note will never sell your personal data.
Your rights to your personal information
Under the General Data Protection Regulation (GDPR), you have a legal right to request a copy of all the personal data we may hold for you, and also to request that this information be deleted from our records. Please use the contact details at the end of this policy if you would like to exercise this right.
What we will do if there is an update to this policy
From time to time we may change our privacy practices. We will notify you of any changes to this Policy as required by law. We will also post an updated copy on our website. It will have a different date from the one set out below. Please check our site periodically for updates.
Contact details and further information
Please get in touch with us if you have any questions about any aspect of this privacy policy, and in particular if you would like to object to any processing of your personal information that we carry out for our legitimate organisational interests.
Green Note
Last Updated- May 2018