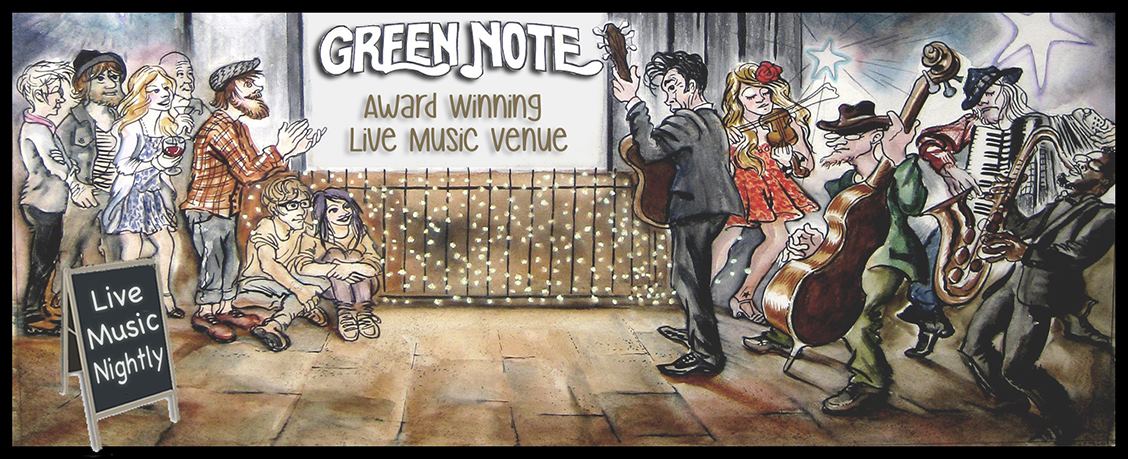 ** "Virtually Green Note" **
Live streamed shows every Wednesday & Friday, 8pm
**Announcing… "Virtually Green Note" **
Live streamed shows every Wednesday & Friday, 8pm. 
While the doors to our beloved venue remain closed and the whole world as we know it seems to have turned upside down, we wanted to continue to do what we love doing! Even if it is in a somewhat different way, as it has become necessary to adapt to this unexpected situation.
So…. we are very proud to announce "Virtually Green Note"… a series of specially-curated, unique, online gigs. These shows, which will be streamed live to our website and on our Facebook and YouTube pages, will each feature three specially selected artists, and take an "in the round" format, where the artists take turns in playing songs.
We aren't selling tickets for these gigs, but we would like to ask you to please make a donation via the PayPal link here or on the page where you're watching from (we've set it up to provide an option to donate for each individual show so please use this link rather than the donate button below). All the money raised for each show, will be divided four ways, between the venue and the three artists playing on that date. If you are in a position to, we would like to strongly encourage you to donate – musicians have been hit really hard by recent events, many of them having their upcoming gigs and tours cancelled, as well as one of their main sources of income having been taken away, almost overnight. We know that consequently many of them are struggling financially, and would be incredibly grateful for the support of music-loving audiences during this time. Same goes from all of us at the venue, which is of course facing its own difficulties. We are recommending a suggested donation of £10 per show, but are leaving the amount open for you each to decide what feels do-able for you, as we know that everybody's situation is different and many of you have also been affected financially by recent events. If you don't have a PayPal account, but would still like to donate, please email us. If you work for the NHS or are a key worker, we would like to say THANK YOU for what you are doing on behalf of all of us, and would like to invite you to enjoy any of our shows for free.
We have announced our line up for the next few weeks, and will keep adding to these as and when we confirm more shows… We have SO many amazing artists booked and are excited to share these with you… so make sure you keep checking our events page for the latest updates and if you don't already follow us on social media, now is the time to start!
We're very excited about these shows and hope you enjoy them too!
Lots of love,
Immy & Risa
**LATEST NEWS regarding COVID-19 (corona virus)
– All Green Note shows suspended until further notice **
Due to this unprecedented situation,  we have taken the heart-breaking decision to cancel or reschedule all our shows over the coming weeks and close the doors of Green Note until further notice. (If you have booked a ticket for a show, you will be contacted by email with details of the rescheduled date or if the show is cancelled, you will automatically be refunded.)
As a small, independent venue this will have a huge impact on many levels, and as you can imagine, means we are in for a very tough time. If you would like to make a donation to show your support, you CAN do so by clicking the link here. Every little helps, and we will use these donations towards retaining our hard-working, dedicated team and helping the venue come through this difficult period. We would be so grateful for any support you can offer.

Hope you all stay healthy and safe and we look forward to seeing you on the other side!

Lots of love, 
Immy and Risa xx
Winner "Camden Cultural Hotspot 2016"
Love London Awards, Time Out
Winner "Best Music Venue 2017"
Camden Inspire Awards
Winner "Grassroots Award 2019"
UK Americana Awards, AMA-UK
DON'T MISS THESE UPCOMING LIVE STREAMS…
WELCOME TO GREEN NOTE…
Green Note is an award-winning live music venue and vegetarian café-bar, located in Camden Town, London (less than 5 mins walk from Camden Town tube station).  We are a unique, intimate, independent venue with a cosy vibe and friendly atmosphere. Founded in 2005 by two music-loving friends, we have become known as one of London's top spots for folk and roots music, hosting gigs every night ranging from folk and blues to roots, world, jazz, country, bluegrass and singer-songwriters. We have a fully-stocked bar and serve a selection of wines, beers and cocktails, organic teas, coffees and fresh juices, as well as a range of vegetarian bar snacks. For more information about buying tickets and/or seating arrangements, please see the FAQ page and for a list of upcoming shows and to book tickets please see our EVENTS page.
"The atmosphere of the Green Note is the best – it's friendly, warm, and full of bright, thoughtful people who genuinely care about live music!" Anais Mitchell, musician

"Whether it's as a performer, hosting an evening or just being a member of the audience, the Green Note is my absolute favourite small venue in London. It has such a great atmosphere that if feels like a concert in your own home, complete with a very nice family. All gigs should be like this!"
Ian Anderson, fRoots magazine
"…[has] gained an international reputation for its intimate atmosphere, close-knit community and folksy charm akin to New York's Greenwich Village scene in the 1960s." Ham & High
"Green note is simply the best venue in London for an intimate evening of acoustic music. Immy and Risa have created a real haven for musicians and music lovers and it all comes together in a candlelit hub with delicious food and the friendliest atmosphere you could hope for; it's Camden's best kept secret…I'm almost loathe to share it!" Lotte Mullan, musician

"With the feel of a 1960's coffee shop music parlour, the Green Note in Camden is surely one of the shining jewels in London's musical crown. Priding itself on the intimacy between artiste and audience and for providing a rare outlet for less mainstream acoustic musical styles…" americana-uk.com

"Green Note, which is to London what the Gaslight or Gerde's once was to New York City" theartsdesk.com

"…if we're heading north then it's usually to this gem of a venue. Despite being just five minutes' walk from Camden Town tube station, Green Note still feels like a hidden treasure. Especially if you get there early enough to sneak a seat in its basement piano bar alongside 40 or so other wised-up souls…" 'The 10 Best Jazz Clubs In London', Condé Nast Traveller