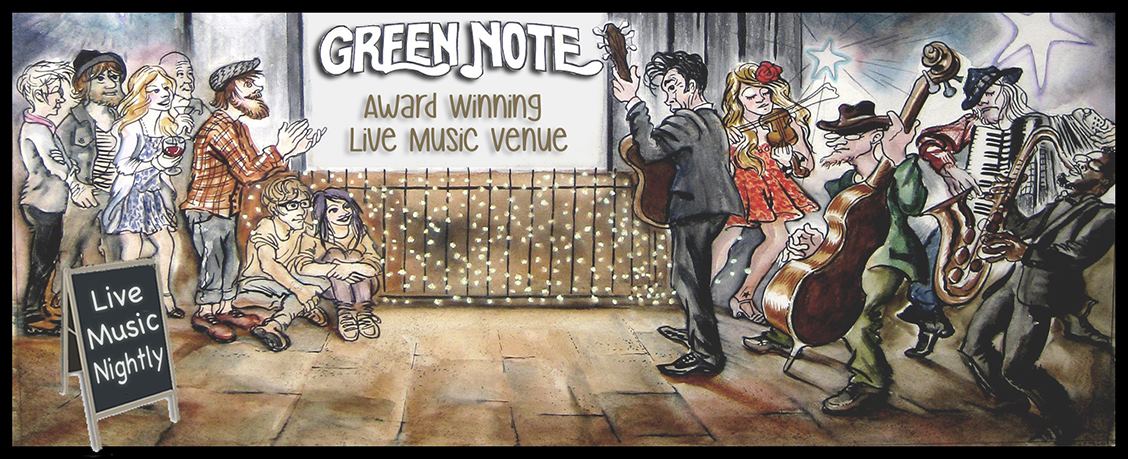 **October 2021 – Latest Update **

Due to the ongoing situation with the pandemic, we will be extending our covid safety measures until further notice. We are very happy to be offering live music again. However, we don't feel that to run Green Note with absolutely no restrictions would be the most sensible, conscientious thing we could be doing at this point.
We will be continuing with the following safety measures:
– We will be reducing the capacity of our shows to approximately 75%- 80% of full cap.
– We request that you wear a mask when moving around the venue and when not eating/drinking.
– We would also request that you 
do a lateral flow Covid test within 24 hours
 before attending the venue, even if you are vaccinated (these can be ordered free of charge from
here
or are given out at many local pharmacies).
– If you are feeling unwell we ask that you please stay at home.
– We will be performing temperature checks on the door and requesting hand sanitisation on entry.
– We have had new air conditioning units installed, as well as UVC virus killing air filters, so as to maximise ventilation.
–  We have adapted our returns policy during the pandemic and will do our best to accommodate specific needs.If you have any concerns about attending a show for which you already have tickets, please contact us and we can discuss your options.
– For the time being,
we won't be selling tickets on the door
. All tickets must be purchased in advance through our website (or in advance in person at the venue).
We are aware that this is a lot to ask of people, and that not everyone will agree with our entry requirements – other venues are operating without any restrictions at all. However, we are taking whatever steps we can that we feel are realistic and sensible under the circumstances, so as to ensure our own safety and that of others. We now know that even those who are fully vaccinated are still at risk of contracting and transmitting Covid. We have a small dedicated team of staff and we need to do our best to protect them in order to keep the venue open. If enough staff fall ill with Covid we'll be forced to shut again, letting down countless musicians who have waited almost a year and a half to return to the stage, and disappointing audiences who have looked forward to returning to live music.
As you know, we are by nature a small, intimate venue, and we certainly cannot claim to guarantee anyone's safety. We're not going to pretend that the venue is 100% "Covid-safe", because realistically very few places where people congregate are truly Covid safe these days – if any venue claims otherwise, this is simply not true. However, if we all play our part, we can do our best to keep Green Note as safe as possible so we can continue to bring you the best in live music that London has to offer.
Thank you for your understanding and cooperation.
**14th June 2021 – Latest Update **

Following the government's annoucement about the delay in lifting restrictions, our planned reopening has been delayed by 4 weeks. We will now be reopening on Monday 19th July and will be following all the latest guidelines on covid safety. Please keep an eye on our website and social media for the latest updates.
**Latest News from Green Note – May 2021 **

We've now been closed for over a year (since March 2020) due to the pandemic – it's been a crazy year during which the world as we know it completely changed. However, during this time we ran a popular live stream series "Virtually Green Note". All in all we broadcast over 100 episodes, featuring over 300 musicians – this really helped us get through this time, and stay connected to our music loving community.
However, we're now stepping back from these online shows, so that we can concentrate on plans for re-opening our venue – we are pleased to announce that we will be reopening from late June and will kick off with a special hybrid show (live audience + also streamed for anyone who is unable to attend live) on Friday 25th June.
We are also regularly updating our website with new confirmed live shows, so do check out our events page and book your tickets now! And it's not the end of our live-streaming – we have more plans in the pipeline so stay tuned for updates!
We wanted to say a HUGE THANK YOU to you all for your incredible support over the past year – we couldn't have got through it without you!
We look forward to seeing you soon – either back at the venue, or online if you are not able to make it in person.
Lots of love,
Immy & Risa xx
Winner "Camden Cultural Hotspot 2016"
Love London Awards, Time Out
Winner "Best Music Venue 2017"
Camden Inspire Awards
Winner "Grassroots Award 2019"
UK Americana Awards, AMA-UK
DON'T MISS THESE UPCOMING SHOWS…
WELCOME TO GREEN NOTE…
Green Note is an award-winning live music venue and vegetarian café-bar, located in Camden Town, London (less than 5 mins walk from Camden Town tube station).  We are a unique, intimate, independent venue with a cosy vibe and friendly atmosphere. Founded in 2005 by two music-loving friends, we have become known as one of London's top spots for folk and roots music, hosting gigs every night ranging from folk and blues to roots, world, jazz, country, bluegrass and singer-songwriters. We have a fully-stocked bar and serve a selection of wines, beers and cocktails, organic teas, coffees and fresh juices, as well as a range of vegetarian bar snacks. For more information about buying tickets and/or seating arrangements, please see the FAQ page and for a list of upcoming shows and to book tickets please see our EVENTS page.
"The atmosphere of the Green Note is the best – it's friendly, warm, and full of bright, thoughtful people who genuinely care about live music!" Anais Mitchell, musician

"Whether it's as a performer, hosting an evening or just being a member of the audience, the Green Note is my absolute favourite small venue in London. It has such a great atmosphere that if feels like a concert in your own home, complete with a very nice family. All gigs should be like this!"
Ian Anderson, fRoots magazine
"…[has] gained an international reputation for its intimate atmosphere, close-knit community and folksy charm akin to New York's Greenwich Village scene in the 1960s." Ham & High
"Green note is simply the best venue in London for an intimate evening of acoustic music. Immy and Risa have created a real haven for musicians and music lovers and it all comes together in a candlelit hub with delicious food and the friendliest atmosphere you could hope for; it's Camden's best kept secret…I'm almost loathe to share it!" Lotte Mullan, musician

"With the feel of a 1960's coffee shop music parlour, the Green Note in Camden is surely one of the shining jewels in London's musical crown. Priding itself on the intimacy between artiste and audience and for providing a rare outlet for less mainstream acoustic musical styles…" americana-uk.com

"Green Note, which is to London what the Gaslight or Gerde's once was to New York City" theartsdesk.com

"…if we're heading north then it's usually to this gem of a venue. Despite being just five minutes' walk from Camden Town tube station, Green Note still feels like a hidden treasure. Especially if you get there early enough to sneak a seat in its basement piano bar alongside 40 or so other wised-up souls…" 'The 10 Best Jazz Clubs In London', Condé Nast Traveller