While the doors to our beloved venue remain closed and the whole world as we know it seems to have turned upside down, we wanted to continue to do what we love doing! So…. we are very proud to present "Virtually Green Note… in the round"… a series of specially-curated, unique online musical events that will run every Wednesday and Friday evening at 8pm (UK time), streamed live to our website, our YouTube and Facebook page.
If you watch this show (and are able to) we would like to like to ask you to make a donation via our PayPal link and support the musicians during this difficult time. All the money raised for each show, will be divided  between the venue and the three artists playing on this date. Please know that we, and all the musicians involved, are incredibly grateful for the support of music-loving audiences… and it enables us to keep doing what what we do!
Suggested donation £10, but any donation will be much appreciated. Thank you!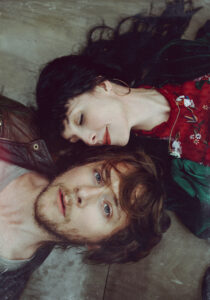 HANNAH SANDERS & BEN SAVAGE:  Spellbinding… Hannah and Ben were born to play and sing together' FRoots  
Huddled round a single microphone, singing intimate duets with just mountain dulcimer, dobro and guitar, Hannah Sanders & Ben Savage are an acoustic duo that sound classically timeless, yet their music is unique.  Since emerging in 2016, the duo recorded two studio albums, Before the Sun (2016) and Awake (2018), produced by award winning producer David Travers-Smith in Toronto. Both albums have gathered praise for the craft and skill of their musical writing and arranging.
'Awesome… a supremely divine album.' Americana UK  
 'Dreamy reveries, softly warm vocals, stirring guitar arrangements – Sanders & Savage wield an elusive sort of magic' MOJO 
They have shared stages and opened shows for Americana and folk luminaries such as Sarah Jarosz, Martin Simpson, Seth Lakeman and Oh Susanna. Fleetingly, they may evoke a memory of Gram & Emmylou, Shirley & Davey, or Gillian & David but their distilling of musical influences from both sides of the Atlantic produces a refined sound that is decidedly their own.  'An exquisite soundscape, which is the result of passion, precision and unbridled intimacy'  ★★★★★ R2 Magazine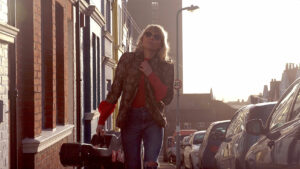 SADIE JEMMETT's extraordinary songs reflect a remarkable life, from a wildly bohemian childhood and teenage runaway to her role today as one of the most original singer-songwriters to excite our ears in many years.
Sadie's latest album Phoenix was released June 2019 on TwoUpTwoDown Records/Absolute Universal and produced and recorded by Joby Baker (Cowboy Junkies,
The Waylin' Jennys) on Vancouver Island, Canada. 'Don't Silence Me', the critically acclaimed single and music video from the album has already made international headline news on both CBS and the BBC and has been hailed as 'A powerful anthem for the #metoo movement ' .
Sadie's was first discovered and mentored by legendary folk singer Judy Collins, who immediately signed her to her New York based label Wildflower Records. Her first album,'The Blacksmith's Girl', was mixed and produced in Los Angeles by Grammy winner David Bianco (Bob Dylan, Johnny Cash). The album was released in autumn 2011 to critical acclaim. Sadie then played support for Judy on a major tour of the UK. London Love Songs, Sadie's second album, was recorded partly at the legendary Abbey Road Studios, London and was released in 2015, again to critical acclaim, following a four month tour of the UK and France.
In 2018 Sadie released 'These Days: Live At The Green Note' earning a four-star review in Maverick Magazine.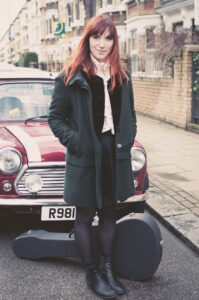 BITY BOOKER is a folk singer songwriter and illustrator based in London. She performs her original songs with classical guitar and voice. Bity has been described as an original melting pot of folk roots and psychedelic whimsy. Join us for this unique opportunity to listen to her new songs live streamed from her home in South East London via the Green Note!