From soulful Sephardic songs to lively Balkan rhythms, Bis-Bas present their spicy fusion of Klezmer and Middle Eastern music.
Vocalist Jonny Moses-son hails from Aden, a port town on the ancient spice route where Eastern influences merge with Spanish and North African music. Bogdan Vacarescu brings the romantic, virtuoso sound of the Romanian school of violin. Jake Painter is one of London's leading Jazz trumpeters, and guitarist Peter Michaels expresses his East European heritage alongside a passion for flamenco.
Together Bis-Bas create a potent mix of rhythm and song, presenting new material from their upcoming debut album.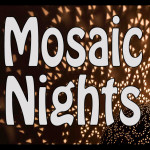 Presented by Mosaic Nights… A monthly series of concerts curated by cellist Shirley Smart, the series features bands and projects which lie in the spaces between jazz, world, folk and classical music.