While the doors to our beloved venue remain closed and the whole world as we know it seems to have turned upside down, we wanted to continue to do what we love doing! So…. we are very proud to present "Virtually Green Note… in the round"… a series of specially-curated, unique online musical events that will run every Wednesday and Friday evening at 8pm (UK time), streamed live to our website, our YouTube and Facebook page.
If you watch this show (and are able to) we would like to like to ask you to make a donation via our PayPal link and support the musicians during this difficult time. All the money raised for each show, will be divided  between the venue and the three artists playing on this date. Please know that we, and all the musicians involved, are incredibly grateful for the support of music-loving audiences… and it enables us to keep doing what what we do!
Suggested donation £10, but any donation will be much appreciated. Thank you!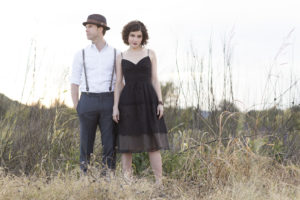 CARRIE RODRIGUEZ & LUKE JACOBS: Carrie Rodriguez, a singer-songwriter from Austin, Texas, finds beauty in the cross-pollination of diverse traditions. A passionate performer, she melds fiery fiddle playing, electrifying vocals and a fresh interpretation of new and classic songs with an "Ameri-Chicana" attitude. Her most recent release, the critically-acclaimed bilingual album, Lola, was named as one of NPR's top 50 albums of the year. Carrie has performed on stages across North America and Europe for the last decade, as well as on programs such as Austin City Limits, The Tonight Show, A Prairie Home Companion, and NPR's Tiny Desk Concerts. In the words of author Brené Brown, "She's the trifecta for me – beautiful singer, soulful songwriter, and kick-ass fiddler." Carrie lives in Austin with her husband and musical collaborator Luke Jacobs, and their 4-year-old son Cruz.
KELLY WILLIS & BRUCE ROBISON: For only the fourth time in their careers, husband and wife power duo, Bruce Robison and Kelly Willis collaborated last year on a new album – Beautiful Lie, featuring some great original songs and a few covers as well. For Robison, it's always about the song. He's written plenty of great ones — and ridden several to the upper reaches of Billboard's country charts. (Tim McGraw and the Dixie Chicks hit No. 1 with "Angry All the Time" and "Travelin' Soldier," respectively; George Strait reached No. 2 with "Wrapped" and No. 6 with "Desperately.")
Willis is a 1993 Academy of Country Music Awards Top New Female Vocalist nominee, and she has received several Austin Music Awards including 1999's Album of the Year for What I Deserve, her widely praised breakout effort.