Events
Beloved by music fans, these songs have accompanied many heartbreaks, friendships and female fierceness. This special concert under the musical direction of Michele Stodart (The Magic Numbers) brings together a selection of astounding singer-songwriters to give loving tribute and response to this iconic album. Featuring Kathryn Williams, Beth Rowley, Fiona Bevan and Astrid Williamson.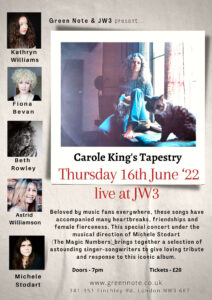 NB: This event will take place at our alternative home for the evening: JW3, 341-351 Finchley Road, London, NW3 6ET
Doors open: 7pm, Event starts: 7.30pm.
NB: This event was originally due to happen in December 2021 and was POSTPONED to Thursday 16th June 2022. All original tickets will still be valid for the new date. We will be be releasing a limited amount of extra tickets also!  https://www.jw3.org.uk/whats-on/celebrating-tapestry