While the doors to our beloved venue remain closed and the whole world as we know it seems to have turned upside down, we wanted to continue to do what we love doing! So…. we are very proud to present "Virtually Green Note… in the round"… a series of specially-curated, unique online musical events that will run every Wednesday and Friday evening at 8pm (UK time), streamed live to our website, our YouTube and Facebook page.
If you watch this show (and are able to) we would like to like to ask you to make a donation via our PayPal link and support the musicians during this difficult time. All the money raised for each show, will be divided  between the venue and the three artists playing on this date. Please know that we, and all the musicians involved, are incredibly grateful for the support of music-loving audiences… and it enables us to keep doing what what we do!
Suggested donation £10, but any donation will be much appreciated. Thank you!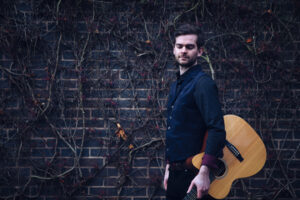 CHRIS CLEVERLEY: Maybe it is Chris Cleverley's eternally restless, whirring chasm of a mind that leads him to constantly innovate and re-imagine his unique interpretation of 21st Century Alt-folk music. And so Autumn 2019 sees Chris hit the road, armed with a brand-new album to bolster this reputation. With a visceral lyrical style, inspired by the American Greats Elliott Smith and Paul Simon, Chris shines a light on diverse, arresting themes from deteriorating anxious minds, via damaging gender constructs, to mystical tales of the occult. Possessing a guitar fingerstyle steeped in the lore of the UK Folk Revival, the essence of John Martyn and Nic Jones pulses through his veins. With a blistering yet delicate technique, described as 'Impressive' by The Telegraph, Chris is fast becoming one of the standout musicians on the UK Songwriting circuit.
Chris' eagerly anticipated 2nd studio album, 'We Sat Back and Watched it Unfold", released in October 2019 to rave reviews. Under the helm of BBC Folk Award winning producer Sam Kelly it is truly a record for the new millennium. This bold, challenging body of new work offers a ground-breaking fusion of varied musical genres, underpinned by the adventurous technicality of his guitar style. Join Chris on his album release tour throughout October and November where he can be seen unveiling exclusive, stripped back glimpses of this new material at live performances across the UK.
"One of the most vital voices of his folk generation" – Folk Radio UK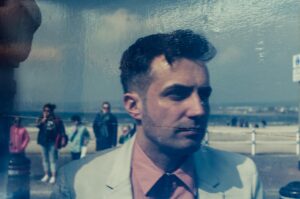 DAN WHITEHOUSE: Dan Whitehouse is an acclaimed and award winning English singer/songwriter, his latest album release: 'Dreamland Tomorrow' on Reveal Records has been described as "Deliberately more experimental – Nothing short of beautiful" **** (RnR Magazine) and "Wonderful production and writing on both discs" Tom Robinson BBC 6 Music
Dan is signed with Reveal Records and a published songwriter with Reveal/Westbury Music Ltd. In addition to his own releases he writes music for media, film soundtracks, TV, and song commissions. Dan has toured and collaborated with label mates Joan as Police Woman, Kris Drever, Boo Hewerdine and Eddi Reader.
He was recently commissioned by Birmingham Comedy Festival to write a new soundtrack to 'The Vagabond' Charlie Chaplin film, and to write a series of songs charting the history of glass making for International Festival of Glass.
He delivers songwriting workshops and mentors emerging artist's, including community music projects.
The son of a Wolverhampton community radio pioneer, Dan was inspired by his father's record collection, gaining a "deep respect for song-writing technique". After stints performing with Naomi (1998–2000) and fronting rock band Sonara, who performed at Reading Festival, Dan went solo in 2007.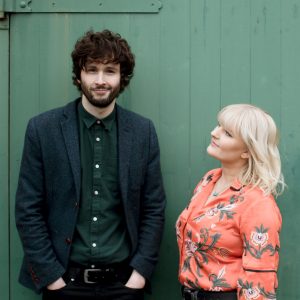 Scottish band THE JELLYMAN'S DAUGHTER lands squarely in the middle of a crossroads between bluegrass, post-rock, folk and soul, managing at the same time to sound not a whole lot like any of those genres. Emily and Graham write their songs together with a focus on doing something new, mixing their intimate vocal harmonies with wild and visceral cello, driving guitar and sweet mandolin, complimented brilliantly by banjo (Jamie Francis) and double bass (Herbie Loening).
In 2018 The Jellyman's Daughter released their new album, 'Dead Reckoning'. It represents a marked step forward in maturity, depth and scope for the duo, achieving 5 stars in multiple publications and inclusion in Popmatters' 'The 20 Best Folk Albums of 2018'.
The past couple of years have seen the band tour extensively around the globe, playing prestigious festivals from Scotland's own Celtic Connections to Australia's Port Fairy Folk Festival.