While the doors to our beloved venue remain closed and the whole world as we know it seems to have turned upside down, we wanted to continue to do what we love doing! So…. we are very proud to present "Virtually Green Note… in the round"… a series of specially-curated, unique online musical events that will run every Wednesday and Friday evening at 8pm (UK time), streamed live to our website, our YouTube and Facebook page.
If you watch this show (and are able to) we would like to like to ask you to make a donation via our PayPal link and support the musicians during this difficult time. All the money raised for each show, will be divided four ways, between the venue and the three artists playing on this date. Please know that we, and all the musicians involved, are incredibly grateful for the support of music-loving audiences… and it enables us to keep doing what what we do!
Suggested donation £10, but any donation will be much appreciated. Thank you!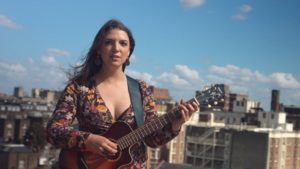 DAISY CHUTE Daisy Chute is a folk-americana songstress, banjo-wielding multi-instrumentalist and hyphen-loving Londoner, possessing a "Gorgeous Voice" (Guy Garvey, Elbow). Daisy's musical roots are born out of her transatlantic Scottish/American heritage and she has been compared to artists like Joni Mitchell, Simon & Garfunkel and Eva Cassidy (BBC Radio). Daisy writes intelligent songs with stories, and performs them with spine-tingling vocals, rich harmonies and intricate instrumentation.Represented by Talentbanq Agency And mentored by Sir Ray Davies, Daisy is an award-winning artist coming first in the Coffee Music Project singer-songwriter competition with her song 'London's on Fire' which can be heard in over 900 Caffe Nero stores around the world. Last year saw an unprecedented year of over 130 performances across the UK and US with highlights including débuts at Glastonbury Festival, Union Chapel and in Danny Boyle/Richard Curtis' feature film 'Yesterday'. These days you can find Daisy live streaming online for her regular Sunday shows at 6pm BST on her Facebook and YouTube pages (@daisychuteofficial).When she's not busy songwriting, recording or selling out independent venues, Daisy offers her dulcet tones to countless soundtracks for films, TV shows and games and for bands like Radiohead, Elbow and Two Door Cinema Club. Formerly of Universal's Platinum-selling classical quartet All Angels, Daisy loves collaboration and is the co-founder of HEARD Collective – an artist collective who promote and support women in music, and the co-writer of COVEN – a gig theatre show about witches.
"Beautiful, exquisite melodies, insightful lyrics and a wealth of wonderful musicality makes Daisy an artist that is destined for great things.." Tony Moore (Soho Radio, The Bedford)
Described as "the purest voice on radio" (BBC) and selected as one of Music Republic Magazine's "ones to watch" in 2019, London singer-songwriter and producer, Cerian, is a multi-instrumentalist described as a cross between Kate Bush, Joni Mitchell and London Grammar, weaving together soaring melodic vocals and rich harmony with poetic lyrics. Known for being a ground-breaking singing harpist, Cerian is a sponsored artist of Rees Harps and is fast gaining a reputation as one of London's most unique artists. With the "voice of an angel" (Music Injection), Cerian writes darkly moving and beautiful folk-pop songs. Having sung on Radiohead's latest album and with the likes of U2, Thom Yorke, Sam Smith, Imogen Heap, Neneh Cherry and Charlotte Church, she is now taking on the world with her own brand of contemporary dark ethereal folk-pop.
Having released four singles to critical acclaim, her debut EP "Caught in the Dark" was released this year and has garnered glowing reviews and extensive BBC Radio play and support from BBC Introducing. Cerian has quickly gained a reputation as a captivating live performer from appearances at Glastonbury Festival, Village Underground and two sold-out headline shows at The National Portrait Gallery.
Cerian
 has also released a single recorded at Abbey Road Studios as part of the HEARD Collective that she co-founded and runs with her colleague Daisy Chute to promote and support women in music.
"
Cerian
 has that rare type of compelling vocal that effortlessly captures its listener's attention with its extraordinary range and purity. 'Wasteland' is a flawlessly executed track… a breathtaking, emotive, punch to the gut. " – When the Horn Blows
Michele Stodart is a solo artist as well as bassist, vocalist and co-songwriter with much loved, Double Platinum selling The Magic Numbers. The band recently released their fifth studio album, Outsiders, in May 2018 to great critical acclaim. In 2012, Michele self released an album of her own songs, Wide-Eyed Crossing, a southern drenched journey into Americana country blues. "I never thought I'd release a solo album, but I needed closure from those songs, so recording them was the only way to truly move on."
Michele continued writing, and started using her skills on bass, guitar and backing vocals, which led to many projects on stage and in the studio with artists including Kathryn Williams, David Ford, Ren Harvieu, David Kitt, O'Hooley & Tidow amongst many others. Michele later signed to none other than Bjork's record label One Little Indian releasing her second solo album Pieces in 2016. The album and Michele's intimate heart wrenching live performances really sets her apart from her peers and proves she is an artist and songwriter in her own right. There are plans in the pipeline to record a new album this year.
"Steeped in languid melancholy… [it] sits in a rich tradition that encompasses such touchstone female performers as Karen Dalton, Judee Sill… Emmylou Harris or Gillian Welch… 'Pieces' may just be the most impressive record she's ever made" – 8/10 – Uncut
"To say that Michele's songs are 'rich' is rather an understatement – it has become the norm for the majority of people at her gigs to leave either speechless, or (and more often the case) crying…. Michele's solo music is truly breathtaking." –  For Folk's Sake
Natalie Lindi is a soulful singer-songwriter born and raised in London. Borrowing sounds from her South African heritage Lindi's raw, heartfelt style can be summed up as "Acoustic Soul".
Natalie has performed upstairs at Ronnie Scotts, the Roundhouse Beach, Brighton Komedia, Altersonic festival in the Netherlands, and most recently won first place in the Open Mic UK competition. Her debut release Peace was featured on BBC Introducing's radio show, and she recently released her single "Tattoo" to raise money for domestic violence victims. She looks forward to sharing new music in the near future.
About the HEARD Collective:

Singer-Songwriters Daisy Chute and Cerian co-founded the HEARD Collective after they met in the studio recording vocals for Radiohead album A Moon Shaped Pool in 2016.

Both multi-instrumentalists with Celtic roots and renowned for their angelic voices, they decided to combine forces and form a new collective of female musicians who tour together, play together and support one another. The idea was born out of a desire for more female representation in the industry and was inspired by other collectives such as Nashville-based I'm With Her, British collaborations Songs of Separation, Woman to Woman and music by indie folk/pop bands like First Aid Kit and The Staves.

Playing regular shows in London and guest spots at festivals like Glastonbury, HEARD Collective are usually found at their favourite venues like Green Note, but until they can return to the gigging and festival circuit once more you can find them hosting live streams every Tuesday at 8pm BST featuring different guests on their Facebook and YouTube pages (@HEARDCollective).