DAN WHITEHOUSE: Dan Whitehouse is an acclaimed and award-winning English songwriter and composer signed with Reveal Records.
Across five solo albums he has gained a reputation as "a fine songwriter, a unique vocal talent and a talented multi-instrumentalist/performer" (MAVERICK) and has collaborated or toured with acts such as Joan as Policewoman, Kris Drever, Willy Mason, Gretchen Peters, Eddi Reader, and blues legend Peter Green.
Dan's double album Dreamland/Tomorrow was released on Reveal Records in 2020 and features collaborations with John Elliot (The Little Unsaid), Eric Lane (Joan as Police Woman), minimalist composer Richard J. Birkin, and BBC Jazz Award winning Saxophonist Xhosa Cole.
The son of a Wolverhampton community radio pioneer, the coming together of community through music has always been important to Dan, and is something he draws upon both in his own work, and as a songwriting tutor, one-to-one mentor and workshop leader.
"I believe in the power of creativity and self-expression and this fuels all of my work" – Dan
"Nothing short of beautiful – **** " RnR Magazine
"Wonderful production and writing"  Tom Robinson BBC 6 Music
"Subtle and delicate melodies" The Sunday Times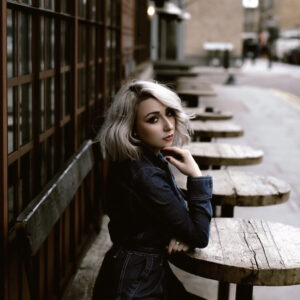 AINSLEY HAMILL: 
Mix Heather Small & Julie Fowlis and you've got singer songwriter Ainsley Hamill. One of the UK's leading and most diverse singers, Ainsley has a long list of nods including the BBC Radio Scotland Young Traditional Musician of the Year Finalist and Gaelic Singer of the Year Finalist at the MG ALBA Scots Trad Music Awards. She represented Scotland at Eurovision in Gothenburg and has appeared at folk festivals the world over, including The Festival Interceltique de Lorient and Celtic Connections for the last 10 years.
2021 sees a new direction for Ainsley with the release of her debut feature album 'Not Just Ship Land'. Produced by BBC composer Malcolm Lindsay, 'Not Just Ship Land', released in March, is inspired by the surroundings and unsung heroes of Govan and Glasgow.
Hailing from the West Coast of Scotland, Ainsley specialises in song writing and songs in Scottish Gaelic and English. Her love of Gaelic song was nurtured whilst studying at the Royal Conservatoire of Scotland and Trad roots are close to her heart.
With this new album however, Ainsley is exploring new sounds and ideas as she pushes out from these roots to create personal material that encompasses big topics close to her heart, including feminism and equality, while unearthing forgotten stories and places that deserve a voice.
For many years Ainsley performed and toured with folk bands Barluath and made appearances with The Unusual Suspects . During this time, her accomplished song writing skills were evident in Barluath's two studio albums; 'Source' and 'At Dawn of Day' as well as various singles including 'Touch the Gate' and 'At the Fair'. Ainsley is a current member of folk band Fourth Moon, performing Gaelic, English and her own material, as well as step dancing.
"Her voice thick with velvet and mirk…hovering between the comforting warmth of The Breath and the whip-smart forlorness of early Adele…Hamill has a big intriguing voice, it's Scottishness ever-present." The Guardian Album of the Month – Not Just Ship Land
"One of the best of her generation." RnR Magazine
SUPPORT FROM ROSALIE DEIGHTON: Born in Holland to an Indonesian mother and a British father, the family moved to Barnsley, Yorkshire when Rosalie was eight. By then she was already a seasoned performer. Her parents were musicians and a popular attraction at folk festivals playing an eclectic repertoire of bluegrass, country and folk as the Deighton Family. A huge fan of Emmylou Harris she also cites Maria McKee, Mary Margaret O'Hara, Bonnie Raitt and Dolly Parton as inspirations. ''It's the pure, classic singer-songwriter sensibility that really moves me,'''
Rosalie is now writing an recording her 4th solo album with producer Jon Kelly