David Mrakpor & Nick Costley-White
The pairing of guitarist Nick Costley-White with multi instrumentalist David Mrakpor is a meeting of two unique and contrasting instrumental voices on the UK improvised music scene. Both share a deep love for the jazz tradition whilst also carving their own style and voice within the bustling and creative London jazz scene.
The duo was first formed as a commission to play the music of Gary Burton and Ralph Towner for a live stream performance as apart of the Kansas Smitty's TV series during the darkest depths of winter lockdown. For this London Jazz Festival performance they'll be expanding upon this repertoire with original compositions and songs by the likes of Chick Corea and Wayne Shorter.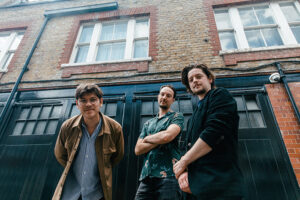 Glasshopper
Genre provoking trio Glasshopper, is an exciting group born out of a love for melody and improvisation. Led by its saxophonist Jonathan Chung, the trio brings together the creative minds of guitarist James Kitchman and drummer Corrie Dick.
This unit of focused players explore melody and improvisation with complete reverence and abandon, intricately weaving together moments of sonic bliss and euphoric rock-outs. Always aspiring to search for fresh interpretations, the bass-less line up blurs the lines between the jazz, folk and rock realms. Seldom settling, always searching.