While the doors to our beloved venue remain closed and the whole world as we know it seems to have turned upside down, we wanted to continue to do what we love doing! So…. we are very proud to present "Virtually Green Note… in the round"… a series of specially-curated, unique online musical events that will run every Wednesday and Friday evening at 8pm (UK time), streamed live to our website, our YouTube and Facebook page.
If you watch this show (and are able to) we would like to like to ask you to make a donation via our PayPal link and support the musicians during this difficult time. All the money raised for each show, will be divided  between the venue and the three artists playing on this date. Please know that we, and all the musicians involved, are incredibly grateful for the support of music-loving audiences… and it enables us to keep doing what what we do!
Suggested donation £10, but any donation will be much appreciated.
ROUNDTABLE COLLECTIVE presents…. Dylan Walshe + Crooked Weather + Karl Culley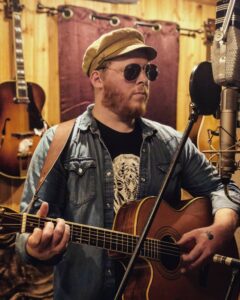 DYLAN WALSHE is an international recording & touring Irish folk music singer-songwriter. Born and raised in southeast Dublin, he is now based in Nashville, Tennessee. He has toured with Flogging Molly, Avatar, The White Buffalo, The Mahones and recorded with James Fearnley of The Pogues.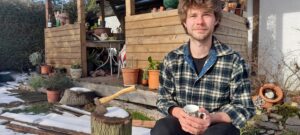 CROOKED WEATHER is the music vehicle for Will Bladen, an English musician and songwriter from Yorkshire who lives with his hands in the earth and his heart on the road. Travel and adventure, both without and within, inspire Will's craft. Poetic lyrics combine with gravelly vocals that invite listeners to join him as he journeys in the land of song.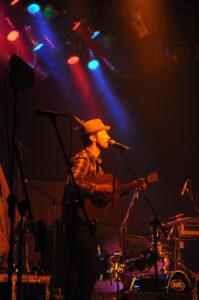 KARL CULLEY is an English fingerstyle guitarist, songwriter, singer and poet currently living in Krakow. His percussive guitar style has drawn comparison to John Martyn, José González and Bert Jansch.
Culley recorded his debut album with the British musician and producer Giles Perring, Bundle of Nerves, in an old school classroom on the Scottish island of Jura. Incorporating Perring's multi-instrumental abilities and the bass playing of Simon Edwards (Fairground Attraction, David Gray, Billy Bragg), the album was released to critical acclaim in 2010, MOJO magazine referring to it as an 'impressive début' and awarding it four stars.
His second offering, The Owl, produced by Daniel Webster, was put together in York and his native Harrogate for release in 2011. The Sunday Express awarded The Owl four stars and compared Culley to both Tim Buckley and José González.
Shortly after recording The Owl, Culley moved to Poland.
Working again with Giles Perring, Culley recorded tracks for his third album, Phosphor, in Kraków, Poland, and at Perring's studio on Jura once again. The album, which features the upright bass playing of Ash Johnson, also incorporated Perring's playing once more, alongside guest performances from Simon Edwards on psaltery, drummer Phillip Harper and the singer Melanie Pappenheim. It was released on 8 July 2013 and has been highly praised. Paul Sexton of BBC Radio 2 said 'Phosphor is an excellent album…' Soundblab awarded Phosphor 10 out of 10, calling it 'one of the finest alternative albums so far this year.'. The Italian website Ondarock.com also lauded Phosphor, saying 'Phosphor is a valuable antidote to the poverty of inspiration and courage of many heroes of the indie singer-songwriter genre.'
Culley's fourth album, Stripling, was released on 27 April 2015. R2 (Rock'n'Reel) awarded Stripling four out of five stars, and compared Culley to Tim Buckley and John Martyn.