While the doors to our beloved venue remain closed and the whole world as we know it seems to have turned upside down, we wanted to continue to do what we love doing! So…. we are very proud to present "Virtually Green Note… in the round"… a series of specially-curated, unique online musical events that will run every Wednesday and Friday evening at 8pm (UK time), streamed live to our website, our YouTube and Facebook page.
If you watch this show (and are able to) we would like to like to ask you to make a donation via our PayPal link and support the musicians during this difficult time. All the money raised for each show, will be divided  between the venue and the three artists playing on this date. Please know that we, and all the musicians involved, are incredibly grateful for the support of music-loving audiences… and it enables us to keep doing what what we do!
Suggested donation £10, but any donation will be much appreciated.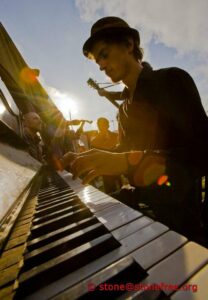 EWAN BLEACH: Ewan Bleach is a clarinetist, saxophonist, pianist, vocalist, bandleader, composer, teacher and session musican based in London and specialising in the early styles of jazz, ragtime, blues and swing. He is also involved in projects of new music with various ensembles, and has been involved with other genres including afrobeat and traditional Turkish music.
Ewan led the Cable Street Rag Band in London and is also involved with international projects including Frog and Henry and the New Orleans band Tuba Skinny, which he has spent time with in the states.
He is particularly interested in playing for dancing and has run many nights focusing on live music for dancing in London in collaboration with the swing dance scene, most notably the Cakewalk Cafe at Jago (formally passing clouds) in Dalston and Juju's Jazz Band Ball in Shoreditch.
Ewan's interest lines primarily in old sensibilities of pre-war music that he calls "music for dancing and romancing" and is fond of playing for functional events such as weddings and other private parties and happy to be setting the mood as much as being in the limelight.
He is currently working on his first studio album due to be released in 2021.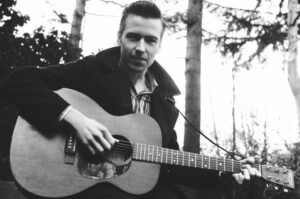 DAVID BROAD: David's playing is seeped in the tradition of American folk and blues guitar, from the rags of Blind Blake and Reverend Gary Davis, to the delta blues of Robert Johnson and Charley Patton. He is also an accomplished harmonica player in the country blues tradition of Sonny Boy Williamson I and Sonny Terry.
His involvement with the Lindy Hop scene nudged him in the direction of early jazz and swing, but the standards Louis Armstrong may have sung still posses a rural quality. He cut his teeth playing in country and folk bands and will still play the odd bluegrass number if the feeling takes him.
His reworking of traditional songs breathes new life into well worn standards and his original compositions the give a nod to the rootsy side of Bob Dylan, Leonard Cohen and Townes Van Zandt.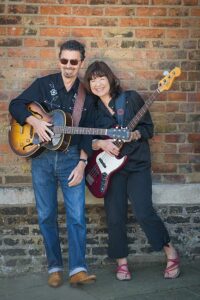 FRAN McGILLIVRAY & MIKE BURKE: Fran McGillivray and Mike Burke are an exciting and compelling duo with a strong following on the acoustic roots music scene . Fran and Mike have spent many years writing songs, touring and recording together. They have developed an amazing empathy on stage and have performed at major festivals in Europe and the UK. They have shared the bill with artists such as Bob Dylan, Bert Jansch, John Renbourne, Davy Graham and Elvis Costello, and are regulars on the club and concert circuit, and on BBC and local music radio.
Fran and Mike's own compositions are complemented by soulful, dynamic and powerful interpretations of songs from a broad range of genres from Americana through to Country and Blues. They have recorded four albums, and the latest is entitled "Midnight Call".