HANNAH ROSE PLATT is an acclaimed singer-songwriter, talented guitarist, and storyteller; described as the UK's answer to Emmylou Harris tinged with the dark storytelling prowess of Nick Cave.
She is currently finishing her third release, a collection of ghostly, gothic rock/folk narratives produced by UK songwriting royalty, Ed Harcourt. Previous offerings (Letters Under Floorboards, 2019, Portraits 2015) were released to widespread critical acclaim, leading to sync successes on Channel 4, national and international radio play and tours across the UK and Europe, including opening for Alt-country pioneers, the Long Ryders.
Hannah recorded her debut album Portraits in Nashville where she worked with some of the industry's leading names, Grammy award-winning musicians Mark Fain, (Ricky Skaggs, Dolly Parton) Stuart Duncan (Emmylou Harris, The Nashville Bluegrass Band, Robert Plant & Alison Krauss ) Her melodic, poetic and powerful music offers self-written narratives to ordinary people who had no one to unfurl their stories; tales of luck, stoicism, loneliness, love, heartbreak and hope. She warmly builds characters like an author, penning songs that almost eavesdrop on other people's lives. 'Portraits' was released independently and was championed by broadcasters Sid Griffin Baylen Leonard and Ralph McLean.
'Powerful & affecting music' – Harper's Bazaar
 'A captivating artist destined for musical stardom' – Glamour Magazine
'A rising star on the UK scene' – Billboard
Support from LUKE TOMS
Luke Toms was born in 1906 and raised in the wilds of Cornwall.
Yes, 118 in October – wow.
In 2006 Luke had a major record deal with Island Records that started going south after exposing himself to the glitterati of the record industry. Don't worry, he's stopped drinking now – probably for the best – and many tours and albums later he now lectures at The Institute of Contemporary Music Performance, researching the evocation and manipulation of memory in song.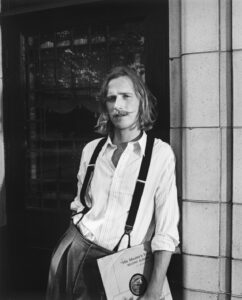 Pic: Luke Toms 1928