While the doors to our beloved venue remain closed and the whole world as we know it seems to have turned upside down, we wanted to continue to do what we love doing! So…. we are very proud to present "Virtually Green Note… in the round"… a series of specially-curated, unique online musical events that will run every Wednesday and Friday evening at 8pm (UK time), streamed live to our website, our YouTube and Facebook page.
If you watch this show (and are able to) we would like to like to ask you to make a donation via our PayPal link and support the musicians during this difficult time. All the money raised for each show, will be divided  between the venue and the three artists playing on this date. Please know that we, and all the musicians involved, are incredibly grateful for the support of music-loving audiences… and it enables us to keep doing what what we do!
Suggested donation £10, but any donation will be much appreciated. Thank you!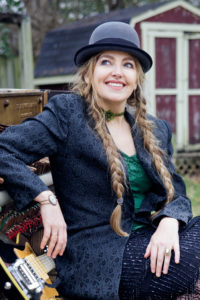 ANNE McCUE: Described by Billboard magazine as a 'triple threat,' Anne McCue has also received acclaim from other artists such as Lucinda Williams and Dave Alvin. Lucinda said of McCue: "I got inside the songs. The first chance I got, I went to see her perform . . . I was floored!"
Born in Sydney, Australia, McCue has toured the world playing her music in concert halls, pubs and festivals, living for a year in Vietnam. She has most recently been based in East Nashville, a thriving songwriting community on the Cumberland River's left bank.
Her love of music forged in Sydney, Melbourne and Ho Chi Minh City, McCue landed in America and performed on the Lilith Fair tour. After setting up shop in Los Angeles, she became a vital part of the city's roots music scene and has since recorded 6 acclaimed studio albums and a DVD 'Live In Nashville.'
Anne has produced other artists such as Emma Swift, Ellen Starski and Scott Miller and has played guitar on albums by such artists as Robyn Hitchcock and Michelle Shocked. This new album, to be released later in the year, will be her 7th. She is host of the radio show Songs On The Wire on Nashville's WXNA and is Nashville correspondent for Rhythms Magazine, Australia.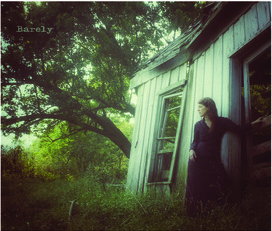 KRISTA DETOR: "She is not just a songwriter, nor accomplished musician, nor poignant entertainer – I have been awed by the soul-punching talent of Krista Detor.." – WNC Magazine
MusicDish magazine calls her work: "..like Richard Wright's 'Manchild in the Promised Land' or the musical equivalent of Akira Kurosawa's 'Dreams';" The Allmusic Guide calls her "An artist of rare ability with a deep poetic gift," and Rolling Stone, "A small miracle."  Krista Detor's solo albums have reached national and international prominence. She's shared stages with Victor Wooten, Loudon Wainwright, The Neville Bros. and Joan Armatrading, among many others. but she is no ordinary songwriter: Detor has been involved in several award-winning theatrical collaborations, including the highly-acclaimed 'Wilderness Plots,' (PBS national), for which she and fellow writers were recognized by the Indiana Legislature for contributions to the arts (2010/2017). She was the only American woman invited to The BBC's Darwin Songhouse Project, Shrewsbury England (2009); has been commissioned to write musical theatre for The U.S. Dept. of State in New Delhi, India (2012); For the Indiana Arts Commission (2013 & 2016); and has written commissioned choral pieces for several national and int'l choirs. In addition, she's been a returning presenter at Stanford University, et.al., conducting songwriting seminars, performances and presentations throughout the world, including repeat workshops for IMRO (The Irish Music Rights Organization), and, in 2017, conducted the first of an ongoing series of cross-cultural, immersive songwriting retreats in Ireland with her friend, lauded literature scholar Dr. Rod C. Taylor.
She is proud to have been awarded two artist residencies in 2018, including the prestigious Hedgebrook Women's Writing Residence, and Songwriting Works, as part of an NEA-funded study of the effect of arts in community, and is launching her own residency retreat in Bloomington, Indiana, called 'The Hundredth Hill.'
Her most recent release is, 'Chaos, Collisions & Clocks,' a 'Best Of' disc.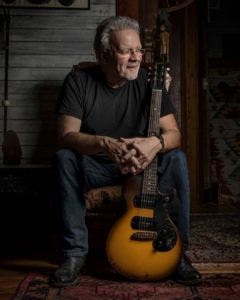 RAY BONNEVILLE: Red House Records recording artist Ray Bonneville, has created and mastered a fusion of traditional American Roots and Blues music all his own and deeply influenced by his upbringing in French Canada and the years he spent writing and playing music in New Orleans. He is known as the master of the slow burn, the groove and one of the best harmonica players alive today. With a greasy guitar style, horn-like harmonica, smoky vocals and pulsing foot percussion he captivates audiences. In 1999 he won the Juno award (Canada's Grammy) and was nominated twice more. Ray's song "I am the Big Easy" was the most played song by American folk DJs, and won "Song of the Year" in 2009. Ray won the International Blues Challenge solo category in 2012 in Memphis.