Maya Isacowitz is an Israeli born- South African artist.
In August 2011 she independently released her debut album, "Safe & Sound", a folk-rock album which contains elements of soul, blues and country.
"Safe & Sound" became Gold Record in Israel and the "Safe & Sound" tour included over a 150 sold out shows. Maya also won Israel's prestigious ACUM award for "Best New Artist" 2012. On July 16th that year she was chosen to be the supporting act for Chris Cornell in Israel on his "Songbook" world tour.
Over the past two years, Maya has been based in New York, where she recorded her second album, "All Of The Miles", with the innovative producer Jonathan Dagan, of the band J.viewz. She collaborated with top musicians who participated in the album, such as: Katie Kresek- violin (toured and played with Adele, Lana Del Ray, Beyonce), Dave Eggar- cello (Pearl Jam, Coldplay, Frank Ocean), Mathias Kunzli- Drums (Regina Spector).
Maya toured throughout the United States, and among other things, featured at the Mountain Jam Festival, SXSW Music Festival, and was the opening act for Suzanne Vega in New York City.
Her new album, "All Of The Miles", is due to be released in Europe during 2016.
"Good music is magical, mesmerizing, beautiful and moving. Maya has all four ingredients in her music. Talent oozes from her and her guitar. Her charisma silently screams. Maya is a unique artist, with a sound that is different from any other Israeli artists who have preceded her". Asaf Nevo- Mako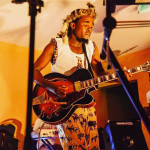 Support from Faith Mussa is a youthful Singer/Songwriter and Child rights activist from Malawi, Southern Africa. His music background dates back to the days he was playing hand-made gallon guitars and Milk-Tin drums with his friends and siblings in the dusty township of Ndirande.
After playing in a family band for several years, Faith Mussa's career skyrocketed after the release of his debut solo album "Desperate".
He has toured South Africa in the BBC Africa Beats, Scotland at the Celtic Connection Music Festival, Arts festival of Northern Norway, China, Kenya and USA. As a child rights activist, Faith Mussa has been part of UNICEF initiative advocating for the rights of the girl child through music. Later on, he worked with UNFPA, Plan International, speaking against early child marriages, Child trafficking, youth empowerment and Education. Now, he is working on a self-funded project educating the society about the evils of corruption and speaking against violence against people with albinism.
Faith dreams to continue using his music to help disadvantaged children, to speak for their rights and be part of their success story. As a teacher, he wants to be able to teach the vulnerable about being positive and educate them on how they can advance their lives through their talents.
Faith Che Muphuwa Mussa is currently Malawi's only "ONE MAN BAND" combining new technology with traditional Malawian sounds.