THIS SHOW IS TAKING PLACE AT OUR ALTERNATIVE HOME FOR THE EVENING, THE WATER RATS, 328 Grays Inn Rd, Kings Cross, WC1X 8BZ
Paperface mostly works alone. From his lighthouse studio, where he has built up an analogue haven in the old light room, the choppy waters of the Thames lie in one direction, and the urban sprawl lies in the other. He is probably up there right now working on new material (weather permitting)
The songs have been described as, "beautifully dark, lyrically rich and tinged with irony". A new double album 'Love in the Time of Florida' has just been released on vinyl, CD, stream and download and follows on from his critically acclaimed first album 'Out of Time', that sold out at Rough Trade in only a few weeks and was described by Richard Smirke as "a gorgeously rich slice of crystalline pop that evokes classic records by the Walker Brothers, Love, and Burt Bacharach".
He has been ably supported by Lauren Laverne, Mark Radcliffe, Stuart Maconie and Chris Hawkins on BBC Radio 6 Music, John Kennedy on Radio X, and was chosen by Geoff Lloyd on Absolute Radio as his Record of the Week.
He is blessed to have a group of musicians that are prepared to follow him wherever he goes. Despite most of them now living abroad, they simply get on their tour bus and make their way to where they are needed, such is their love for this mysterious man and his music.
"Beguiling, clever, sad, and really funny at the same time… I love this!" Lauren Laverne, BBC6 Music
"The Mysterious 'Paperface' my record of the week. Brilliant!" Geoff Lloyd, Absolute Radio
 "On my 6Music Recommends show, Paperface got a big response from listeners… absolutely beautiful…" Stuart Maconie, BBC6 Music
"I've been an idiot for not playing that sooner. Excellent!" John Kennedy, Radio X
"Wow! That's something really special. Quickly becoming one of my new favourites!" Chris Hawkins, BBC 6 Music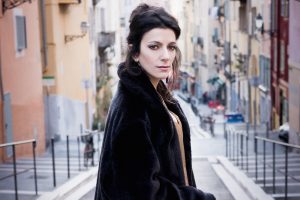 Support from YANA: YANA, is that rare singer-songwriter who manages to combine a beautiful voice and fine looks, with a genuine skill for writing songs. The golden nectar of late 60's and early 70's harmony glows softly through her music, suggesting that she has drunk from the sweet waters of Laurel Canyon. Relentless travel around the world as a child and teenager, sometimes hitchhiking, sometimes riding on the back of a train – and always playing for her supper – has also infused the songs of this Athens born daughter of a Turkish father and German mother. The combination of such experience and skill has attracted the attention of Dime On Records, a brilliant French indie label who are now in the process of making what will surely be a stunning debut album.