While the doors to our beloved venue remain closed and the whole world as we know it seems to have turned upside down, we wanted to continue to do what we love doing! So…. we are very proud to present "Virtually Green Note… in the round"… a series of specially-curated, unique online musical events that will run every Wednesday and Friday evening at 8pm (UK time), streamed live to our website, our YouTube and Facebook page.
If you watch this show (and are able to) we would like to like to ask you to make a donation via our PayPal link and support the musicians during this difficult time. All the money raised for each show, will be divided  between the venue and the three artists playing on this date. Please know that we, and all the musicians involved, are incredibly grateful for the support of music-loving audiences… and it enables us to keep doing what what we do!
Suggested donation £10, but any donation will be much appreciated. Thank you!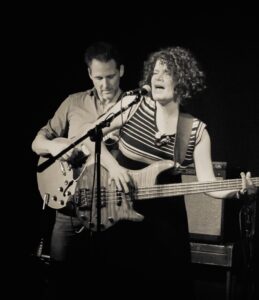 Acclaimed UK singer-songwriter ROSIE BROWN and her long-time collaborator extraordinaire – Austrian guitarist and co-writer BERND REST – will be performing songs from their imminent fourth album. Intricate, intimate, inimitable.
"Superiour musical minds following their hearts." * * * * Mojo
"Elemental, sensual… conjures something evocative of Les Paul backed by Goldfrapp." * * * * Q Magazine
"Intriguing… the affecting vocal delivery and sparse acoustic instrumentation lend this a leftfield feel akin to Cat Power or Stina Nordenstam." Music Week
"Rosie's vocals conjure up hints of Joni Mitchell in her heyday." Straight No Chaser
"She fuels her fans with silky slow-burning jazz-pop." * * * * The Scotsman
"Great voice, well-crafted songs, lovely lyrics." The Sunday Times Magazine
"Bernd Rest's neat guitar parts recall vintage John Martyn. But the post-Norah subtlety (acoustic group at its core) and post-Portishead portent (neurotic bluesy dissonce) and post-Zero-7 lounge child results in uniquely affecting sounds which unsettle as they seduce." * * * * Mojo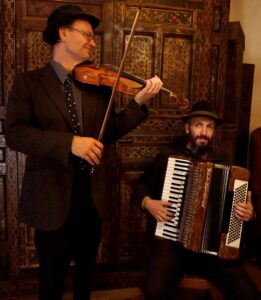 DUNAJSKA KAPELYE
(aka the Danube Band) are a collective of musicians led by violinist Piotr Jordan whose firebrand virtuosity and heart-breaking lyricism are the foundation of the band's sound. Accompanied by his longtime musical partner
Zac
 Gvirtzman on accordion, the duo perform music from and beyond wherever the Danube flows, much of it from the Roma musicians of Hungary, Romania and the Balkans, traditional music played with exuberant abandon.
"the sweetest Gypsy violin in London" – Evening Standard
"Extreme, virtuoso Balkan Gypsy Jazz" – Time Out
"All Gypsy life is here" – London Jazz
"You can't help but leave with a big stupid grin on your face" – the Metro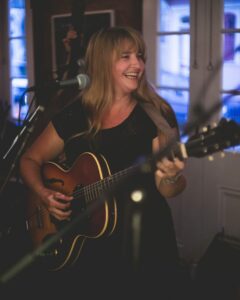 LEONIE EVANS is a multi instrumentalist, singer-songwriter and occasional session vocalist who's been performing since the age of 5 and has never stopped. She's collaborated with hundreds of musicians all over the world and has a strong passion for history and languages.
Leonie's repertoire when performing solo tends to be a mixture of her own compositions and pre 40's Jazz, Blues, Country, Gospel and Tejano.
"Like nothing else I've ever heard in my life"
"I was just blown away with her" Cerys Matthews, BBC Radio 6 
"Jazz and Folk flirt  en route to New Orleans via Canterbury with Evans'  slinky, supple vocal…One slot on Later with Jools holland is all it would take" Prog Magazine
"Leonie Evans' distinctive vocals were magical. An astonishingly good simulated trumpet sound in her understated stride she kept the audience in her thrall." The Bristol Post