While the doors to our beloved venue remain closed and the whole world as we know it seems to have turned upside down, we wanted to continue to do what we love doing! So…. we are very proud to present "Virtually Green Note… in the round"… a series of specially-curated, unique online musical events that will run every Wednesday and Friday evening at 8pm (UK time), streamed live to our website, our YouTube and Facebook page.
If you watch this show (and are able to) we would like to like to ask you to make a donation via our PayPal link and support the musicians during this difficult time. All the money raised for each show, will be divided  between the venue and the three artists playing on this date. Please know that we, and all the musicians involved, are incredibly grateful for the support of music-loving audiences… and it enables us to keep doing what what we do!
Suggested donation £10, but any donation will be much appreciated. Thank you!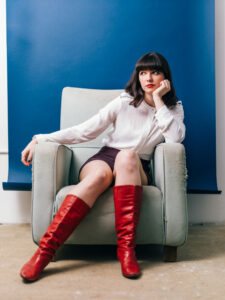 ROXANNE DE BASTION: "A class act – Erase is a beautiful track full of twists and turns. It's pretty unique, which I love!" (Danielle Perry, Absolute Radio) 
"A 60s pop epic that seems to recall everyone from Dusty Springfield to Last Shadow Puppets, with some crisp songwriting sitting at its heart" (CLASH Magazine)
Having built a loyal fanbase, Roxanne de Bastion crowd-funded debut, Heirlooms & Hearsay, arrived in 2017, leading to support slots with Lambchop, the Wainwright Sisters, and triumphant shows at Glastonbury, Cambridge Folk Festival and support from PRSF Women Make Music fund. Meanwhile, Roxanne's remarkably self-sufficient approach was recognised by the FAC (Featured Artists Coalition) who invited her to join its Board Of Directors, advising alongside Imogen Heap, Radiohead's Ed O'Brien and Blur's Dave Rowntree.
Practicing what she preaches to other artists, Roxanne cold emailed a producer she admired, the revered guitarist Bernard Butler. That boldness paid off – Bernard was so impressed that within a week they were in his studio together working on her second album.
"He's great at making you feel comfortable so that you can get a good performance," she says today, and cites the 1960s sensibility of his string arrangements as a huge draw creatively. With just a few additional supporting players – including a cellist, violinist, French horn player, and Bernard on guitars – Roxanne has stepped further away from her folk roots and created her most ambitious and expansive work to date.
Roxanne released the first track from these sessions on May 6th and went on a virtual UK tour in support of her single, as well as the #saveourvenues campaign.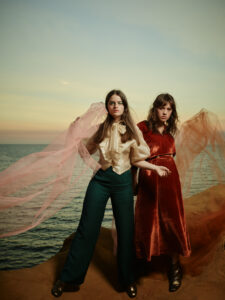 CHARM OF FINCHES: Charm of Finches are a sister duo from Melbourne, Australia who sing haunted folk tunes about love, grief and whispering trees.
Mabel and Ivy Windred-Wornes emerge from an eclectic musical childhood of Celtic strings and busking old-time tunes.
Their debut album "Starring at the Starry Ceiling", produced by Nick Huggins of Little Lake Records and featuring the duo's signature angelic vocal harmonies and captivating chamber folk sound, has been praised for its candour and originality and named one of the best releases of 2016 by ABC Radio National.
With influences like Sufjan Stevens and Agnes Obel, the duo was awarded the 2017 National Folk Festival's Gill Rees Young Musicians Memorial Award and are twice Folk Alliance Australia award winners. Their 2018 single "The Bridge" won the Blues & Roots Radio International Song Contest duo category and their music has featured on ABC TV Mustangs FC.
The duo released their sophomore album "Your Company" November 2019 on their independent label "Conversations with Trees", launched with an Australia wide tour.  The album was Melbourne's PBS Radio Album of the Week and winner of the Best Folk/Singer-Songwriter Album in the Independent Music Awards (IMA).
Their unique music video collaborations with Magic Dirt's Adalita Srsen has won worldwide attention, with their "Lies" video winning third place in the 2020 International Songwriting Competition music video category.
Charm of Finches showcased at the 2020 Folk Alliance International Conference in New Orleans, US and are currently working on their third album while in lockdown in their shared home in Melbourne.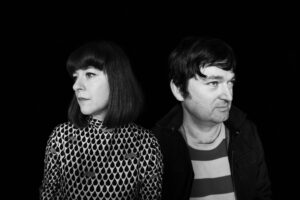 BIRDS & BEASTS: Birds and Beasts are an alternative pop/folk duo based in West Yorkshire, their union started in Huddersfield with a mutual love of animals and music. Stuck in a log cabin during a snowstorm in Germany, with only a guitar and a bass, the idea of Birds and Beasts was born. Their album, 'Entwined' is about the lives and adventures of animals related to the human experience.
Every track on the album has been carefully curated and produced, to create perfect stories through the bands music, mastered at Abbey Road Studios. This album reflects all series of emotions from triumphs, heartache, betrayal, loss, love, union and friendship through the prism of the animal kingdom. Birds and Beasts are touring online now due to the pandemic, sharing love where and when they can. Keeping the love of music  going.