While the doors to our beloved venue remain closed and the whole world as we know it seems to have turned upside down, we wanted to continue to do what we love doing! So…. we are very proud to present "Virtually Green Note… in the round"… a series of specially-curated, unique online musical events that will run every Wednesday and Friday evening at 8pm (UK time), streamed live to our website, our YouTube and Facebook page.
If you watch this show (and are able to) we would like to like to ask you to make a donation via our PayPal link and support the musicians during this difficult time. All the money raised for each show, will be divided  between the venue and the three artists playing on this date. Please know that we, and all the musicians involved, are incredibly grateful for the support of music-loving audiences… and it enables us to keep doing what what we do!
Suggested donation £10, but any donation will be much appreciated. Thank you!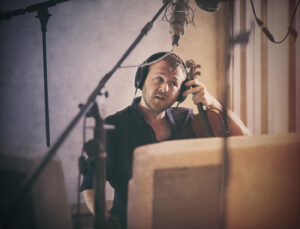 SAM SWEENEY: Nominated four times, and winner in 2015, of Musician Of The Year BBC Radio 2 Folk Awards, Sam is a veteran of the mighty Bellowhead, former and inaugural artistic director of the National Youth Folk Ensemble, founder member of the acclaimed instrumental trio Leveret, and "one of the defining English fiddle players of his generation" (Mark Radcliffe) at the forefront of the revival in English traditional music. Sam has also recorded and performed with The Full English, Eliza Carthy, Jon Boden & The Remnant Kings, Fay Hield & The Hurricane Party, Emily Portman, Martin Carthy, as well as his own critically acclaimed show Made In The Great War.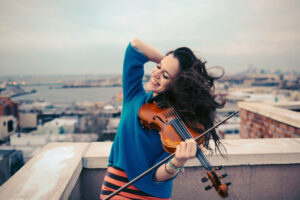 BRITTANY HAAS is widely regarded as one of the most influential fiddlers of her generation. Born in Northern California, Brittany grew up honing her craft at string camps nationwide, and developed her unique style of fiddling at the influence of her mentors, Bruce Molsky and Darol Anger. A prodigious youth, Haas began touring with Darol Anger's Republic of Strings at the age of fourteen. At seventeen, she released her debut, self-titled solo album (produced by Anger). Haas continued to tour and record while simultaneously earning a degree in Evolutionary Biology at Princeton University (where she also minored in Music Performance). It was during her time at Princeton that Brittany was asked to join the seminal "chamber-grass" band Crooked Still, with whom she has made four recordings and toured the world. Haas has always been a much sought-after collaborator and session musician. She has performed on Late Night With David Letterman and Saturday Night Live as part of Steve Martin's bluegrass band, and features on Martin's Grammy-winning album "The Crow: New Songs for the 5-String Banjo." Over the years, she has performed with Bela Fleck, Abigail Washburn, Tony Trischka, Yonder Mountain String Band, The Waybacks, Alasdair Fraser & Natalie Haas (her cellist sister), and more. Now residing in Nashville, TN, Brittany is currently involved in many exciting projects.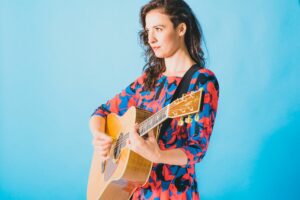 JENN BUTTERWORTH is one of the most notable folk guitarists in the UK, awarded 'Musician of the Year' at the Scots Trad Music Awards and nominated for the same title in the BBC Radio 2 Folk Awards.  Based in Glasgow, usually she has a busy schedule performing across the world.  An excellent collaborator, she is a key member in well-known projects, including Ross Ainslie and Ali Hutton, award winning folk powerhouses Kinnaris Quintet and Songs of Separation, and she has also performed with Treacherous Orchestra, Liz Carroll, Ryan Young, Claire Hastings & Fiddlers' Bid.