Sefiroth is an international collective of musicians founded by brothers Nick and Alex Roth to explore and reimagine traditional Sephardic (Judeo-Spanish) repertoire for contemporary audiences. Sung in Ladino, these ancient songs weave timeless stories of love, loss and yearning for home, evoking the lands in which the Sephardic diaspora settled: Iberia, the Mediterranean and the Middle East. The group's arrangements are as porous and wide-ranging as the history of the Sephardim, combining acoustic and electric instruments, improvisation and trance-inducing rhythms.
Following the release of its debut EP Arboles Lloran por Lluvia, Sefiroth staged a multimedia theatre show bringing its experimental arrangements to life through dance, digital projection and production design. It was hailed as "absolutely incredible" (Musicians Benevolent Fund), "striking and innovative" (playstosee.com) and "flawless… an incredibly fascinating collaboration between music, dance and digital media" (bargaintheatreland.com).
This trio performance features Alex Roth (guitar), Shirley Smart (cello) and Alice Zawadzki (voice, violin).
"Magical. Intense. Beautiful" – London Jazz News
"Explores the spaces between the sounds as much as the notes themselves… like abstract painting with music." – worldmusic.co.uk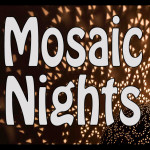 Presented by Mosaic Nights… A monthly series of concerts curated by cellist Shirley Smart, the series features bands and projects which lie in the spaces between jazz, world, folk and classical music.