JASON MCNIFF is a troubadour who has made eight albums which people call Folk, or Americana, or Alt. Country. There is an Englishness in his guitar playing however, and you might like to think of Bert Jansch or Wizz Jones meeting John Prine & Townes Van Zandt. Time Out writes, "McNiff's quiet, intimate, fragile-sounding vocals draw you into his world– an almost timeless place, through which he drifts, a romantic loner, a dreamer, at home with the blues." He is often touted as one of the UK's most overlooked musical treasures, as a songwriter and finger picker. His latest album 'Dust of Yesterday' came out in 2021 and was album of the week in The Times.
'An Immense talent' Janice Long, BBC Radio 2
London-born singer-songwriter MATT OWENS is 3 albums down into his solo career (and in the throes of currently recording his 4th,) having first come to prominence as a founder member of indie-folk band Noah and the Whale. Whilst for the last 5 years establishing his solo credentials through relentless touring, Matt has also been in high in demand as a songwriter, producer and session player working with amongst many others Thea Gilmore, Robert Vincent, Hannah White, Elles Bailey and The Korgis.
DAVE SUTHERLAND is a London-based Americana/Country singer-songwriter who was recently awarded 'UK Male Country Singer of the Year' at The UK Country Music Awards. An accomplished performer filled with raw energy and emotion, Dave's music speaks of life, love and London with the eye of an artist and the ear of a poet. His latest album 'Last Drop of Empty' was released to worldwide critical acclaim and produced two Top 5 singles. It was also voted 'Runner Up UK Americana Album 2022' by the readers of Americana UK and nominated for 'UK Country Album of the Year' at the UK Country Music Awards.
"Sutherland conjures up that Americana magic. His songs have the pain, joy and hint of humour that make his art and craft authentic, whether on the banks of the Tennessee or the Thames" Americana UK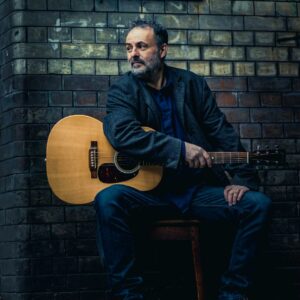 Doors open 7.30pm. Music starts 8pm. The venue is mixed seated and standing. Tables are limited and available on a first come first served basis so, if you'd like a seat, we recommend arriving early!