While the doors to our beloved venue remain closed and the whole world as we know it seems to have turned upside down, we wanted to continue to do what we love doing! So…. we are very proud to present "Virtually Green Note… in the round"… a series of specially-curated, unique online musical events that will run every Wednesday and Friday evening at 8pm (UK time), streamed live to our website, our YouTube and Facebook page.
If you watch this show (and are able to) we would like to like to ask you to make a donation via our PayPal link and support the musicians during this difficult time. All the money raised for each show, will be divided  between the venue and the three artists playing on this date. Please know that we, and all the musicians involved, are incredibly grateful for the support of music-loving audiences… and it enables us to keep doing what what we do!
Suggested donation £10, but any donation will be much appreciated. Thank you!
Virtually Green Note Special…. Curated by Whitstable Sessions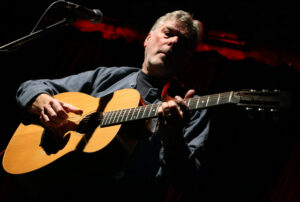 Folk legend Steve Tilston celebrates his half-century career milestone…
STEVE TILSTON marks his semicentennial as a professional musician and is on top form with no signs of him slowing down just yet…
Steve is one of our most celebrated songsmiths, widely recognised within the world of folk and contemporary music; the words, arrangements and subtle, quite superb guitar playing could be no one else. His most recent release Distant Days is a retrospective of an ongoing five-decade career. A new studio album coming soon. He's the writer of the classic The Slipjigs and Reels, The Naked Highwayman and Here's to Tom Paine and his songs have been covered by a who's who of the folk scene. As well as a hugely successful solo career, he's toured with John Renbourn's Ship of Fools, traditional singer Maggie Boyle, in WAZ!, with Maartin Allcock and Pete Zorn, the Ballet Rambert, with daughter Martha and most recently as Tilston & Lowe with Jez Lowe. And has produced an enviable catalogue of eclectic work. Accolades include, BBC Radio 2 Folk Award Best Original Song for The Reckoning; the subject of which is still sadly relevant today. Fatea Male Singer of the Year 2015. Numerous radio and TV appearances, notably Later with Jools Holland, BBC Four's Songwriters' Circle. He also gained further notoriety when the story of a long-lost letter from John Lennon hit the headlines internationally; inspiring the Hollywood movie Danny Collins starring Al Pacino.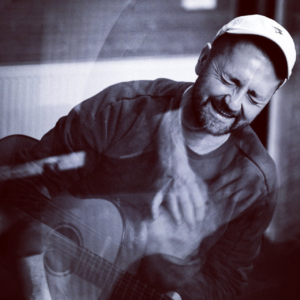 Edinburgh born BLUE ROSE CODE spent his creative formative years in East London, but it is in his moving to Liverpool "to be by the sea's energy" that he has found where his heart is. His album 'The Water of Leith' won the Skinny's album of the year in 2018 and his follow up 'With Healing Of The Deepest Kind' was released during lockdown to rave reviews;
"Healings is ravishingly beautiful, a burnished blaze of Caledonian Soul, muted jazz and poetic recitation. A bruised peach of a record" 8/10 in Uncut Magazine
"This album should be on everybody's end-of-year list without fail."  Folk Radio
"Ross' songwriting and expressive performance are simply breathtaking. 'With Healings Of The Deepest Kind' is an album classic."  Louder Than War Magazine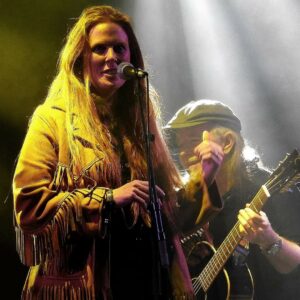 Karrie O'Sullivan Holmes is a singer/songwriter from Killarney, Co. Kerry.
Jimmy Smyth is a Grammy Nominated Guitarist/Producer/Composer originally from Navan, Co. Meath
Karrie released her debut album of songs 'Jelly Legged' – drawn from a rich well of personal experiences – in 2014 . It immediately pricked up the ears of the Music Cognoscenti, with two tracks getting heavy rotation on the National Broadcaster, RTE. From this, Karrie was invited to Tour with Declan O'Rourke, Mick Flannery and Mary Coughlan…up to and including a 'guest' live RTE Radio spot with Declan O'Rourke (Galileo) and the RTE Concert Orchestra in the NCH, Dublin. Her second album, 'Perpetual Motion' brought further acclaim from musicians such as International Artists Sharon Shannon: 'Karrie is the Irish Joni Mitchell', Rumer and Mary Coughlan, who has recorded Karrie's song 'Elbow Deep' for her upcoming Album. 'Ireland's best kept song writing secret' says her musical partner and Grammy Nominated Guitarist/Producer/Composer Jimmy Smyth (Van Morrison, Moving Hearts, Chaka Khan, Roger Daltrey). Both albums were heavily rotated on RTE and BBC Radio, and quickly began picking up plays in other territories (UK, Holland) As a result, Karrie got invited by UK artist 'Rumer' to open her UK tour dates on 2018. A major coup for a relatively 'new' artist.
Since then, Karrie has concentrated on smaller, single releases and has had three Top 5 singles in Ireland, all of which will be included in a soonto-be-released Album: 'I Don't Hear You', 'I Love You The Most' (both Number One on the RTE Airplay Charts) and 'So Long Ago' ( Highest chart position: Number Three) All produced by Jimmy Smyth, cementing their Musical partnership.
The current selection of tunes, about to be released on HyperTension Music in Germany, was the result of a collaboration between Karrie and Jimmy. The idea was to record and perform established tunes by their favourite artists: reflecting the Zeitgeist, and using only the 'bare bones' instrumentation, thus highlighting Karrie's remarkable voice.
All tracks were recorded entirely 'remotely' as both an experiment and an artistic reaction to The Human Condition affected by the Events of 2020.
Karrie and Jimmy have just completed recording and filming with the Irish Chamber Orchestra (at their invite) for imminent release.
The CD version of the 'Home Thoughts' album (HyperTension GmbH) is released in Ireland and the UK on August 28th
It is released in the US on November 6th and the rest of the World on October 6th with the vinyl version to follow.