Joe Browne – Sax
Christian Miller – Guitar
Dermot McNeill – Bass
A recent graduate of the Guildhall School of Music and Drama in London, Dermot McNeill has put together assembled the trio to realise his original compositions.
Joe Browne, a graduate of the legendary Berklee College of Music in Boston, brings an intensity to the trio with his extended, powerful playing and broad spectrum of musical vocabulary and powerful dynamics.
Christian Miller ,no stranger to the Green Note brings both his own material to the trio and an array of subtle harmonic colour and effects.
Together this trio is will present an evening of original compositions exploring a wide musical palette ranging from swinging and uplifting jazz to mysterious soundscapes and post rock influences.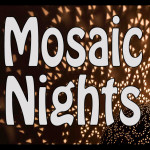 Presented by Mosaic Nights… A monthly series of concerts curated by cellist Shirley Smart, the series features bands and projects which lie in the spaces between jazz, world, folk and classical music.