Tom Smith's Gecko
Prolific band leader and accomplished saxophonist. Two time finalist of BBC young Jazz Musician of the Year. Craig Ball, Peter Whittingham, Wolfson Fund award winner. We introduce Tom Smith and his trio Gecko! Tom has played Ronnie Scott's, Barbican, Sage Gateshead, the Proms and Pizza Express Jazz Club. He has shared the stage with renowned musicians including Ian Shaw, Gwilym Simcock, Julian Siegel and Gareth Lockrane.
Gecko are Jonny Mansfield on Vibraphone, Will Barry on the Piano and Tom Smith on Saxophone (and other assorted reed instruments!) All three are accomplished, award winning players in their own rights but together they weave a truly astounding tapestry of endlessly morphing soundscapes and ruthlessly swingin' cadenzas. Tom's compositions incorporate a wide variety of his influences, from Modern Jazz, Folk and Classical, to Gypsy Jazz and Crooner Swing.
Kourosh Kanani Trio
Kourosh Kanani has been an integral part of the UK Gypsy Jazz scene for several years! Kourosh is a world class purveyor of the modern Gypsy Jazz sound. You'd be hard pushed to find someone more modern, in fact! His foreward thinking attitude combined with mind boggling skill – which incorporates inspiration from an array of sources, including Indian Classical Music, Bebop and Americana – Firmly places him at the top table of this uniquely European jazz style.
Kourosh and his trio are regulars at various London Jazz clubs, especially Kansas Smittys! They perform a combination of Koo's compositions, modern bebop and Jazz standards and, of course, Django Reinhardt classics – but only the hip ones 😉
The Kourosh Kanani Trio are, from low to high, Simon Read: Providing a powerful, sophisticated bed, on his Double Bass. Jeremie Coullon: An enduring, rocksteady, but subtle sea of rhythmic beauty. Kourosh Kanani: Fiery, swingin Gypsy Jazz lines. Heartfelt balladeering. Fine musicianship.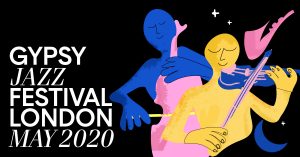 Gypsy Jazz Festival of London: A London based showcase of some of the world's finest forward-thinking Gypsy and Chamber Jazz artists, pushing the boundaries of the uniquely European Genre.
Showcasing the world's finest forward-thinking Gypsy and chamber jazz artists, pushing the boundaries of the uniquely European genre over two weeks in May.
Jazz in the UK is in rude health. The much-overlooked, even maligned sub-genre of Gypsy Jazz has been simmering along nicely for a while now; popular enough at weddings and vintage-themed events, but the music and players can cut it in any room, and there's a cutting edge not many people get to hear. It warrants its place in the London sun.
The godfather Django Reinhardt began playing this music, since codified as Gypsy Jazz, with Stephane Grappelli in 1930s Paris. Always an absolute explorer, harmonically, rhythmically inventive, sophisticated and ahead of his time, Django is an idol whose legacy is more than imitation, noble pursuit though that may be. Artists like Biréli Lagrène, Angelo Debarre and the Selmer #607 collective have kept the fire burning, and added to it; and it's caught here in the UK too. With pride we present to you the state of the art.
The GJFL team are musicians and artists, running the show not for profit but for music. We are committed to fair practice, the golden rule and the groove, and to doing all we can to bring people together for the craic and the love of good music.