The second date of GJFL's three day residency at Green Note in Camden brings the thrilling Trio Manouche!
Considering that Sting, Rory Bremner, KT Tunstall and the late great Jack Massarik are all fans of this electrifying Trio, it is no surprise that Trio Manouche have firmly established themselves as one of the UK's best loved Gypsy Jazz groups.
Their set unifies the core repertoire of gypsy guitar legend Django Reinhardt with the bands own foot-tapping arrangements of traditional swing bangers, as well as bandleader Simon Harris's highly acclaimed original material.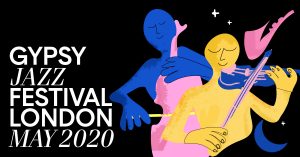 Gypsy Jazz Festival of London: A London based showcase of some of the world's finest forward-thinking Gypsy and Chamber Jazz artists, pushing the boundaries of the uniquely European Genre.
Showcasing the world's finest forward-thinking Gypsy and chamber jazz artists, pushing the boundaries of the uniquely European genre over two weeks in May.
Jazz in the UK is in rude health. The much-overlooked, even maligned sub-genre of Gypsy Jazz has been simmering along nicely for a while now; popular enough at weddings and vintage-themed events, but the music and players can cut it in any room, and there's a cutting edge not many people get to hear. It warrants its place in the London sun.
The godfather Django Reinhardt began playing this music, since codified as Gypsy Jazz, with Stephane Grappelli in 1930s Paris. Always an absolute explorer, harmonically, rhythmically inventive, sophisticated and ahead of his time, Django is an idol whose legacy is more than imitation, noble pursuit though that may be. Artists like Biréli Lagrène, Angelo Debarre and the Selmer #607 collective have kept the fire burning, and added to it; and it's caught here in the UK too. With pride we present to you the state of the art.
The GJFL team are musicians and artists, running the show not for profit but for music. We are committed to fair practice, the golden rule and the groove, and to doing all we can to bring people together for the craic and the love of good music.