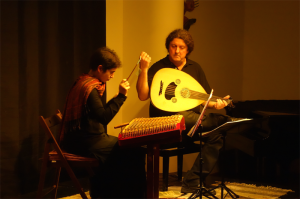 The project brings together two of the most important instruments of the interwar rebetiko music culture: the santur and the oud. The duo leans on the wide harmonic spectrum of the santur, and the oud's clear melodic print to interpret the rich affective modalities of rebetiko songs. At times nostalgic and mesmerising, at others violent and hedonistic the repertoire performed crafts an atmospheric yet colourful tour to the urban soundscapes of interwar rebetiko.
Beyond Greece the duo have appeared in musical venues and festivals in Alger (Algeria), in Lyon, Paris, Bourges, St-Etienne (France), in London (England) and in Brussels (Belgium).
Band/Musicians:
Evgenios Voulgaris – vocals & oud
Ourania Lampropoulou – santouri
Evgenios Voulgaris' interest in traditional music started in 1992. Around the same time he completed his studies in Byzantine music. A multi-instrumentalist himself, he has repeatedly teamed with master musicians and composers in concerts, recordings and television productions in Greece and abroad. Since 1995 he has been the first mandolin in the Orchestra of Colors.
Of particular interest to him is teaching. He teaches in the Municipal Conservatory of Patras, where he leads the Department of Traditional instruments. He also taught the oud, yayli tanbur, organology, and makam theory in the Department of Traditional Music at the Technological Educational Institute of Epirus. Since 2006 he has also been teaching at the "Labyrinth" Musical Workshop in Crete and the "Music Village", and he is often invited to deliver seminars in Greece and abroad.
As a yayli tanbur soloist he has been involved in various international projects: with Nima ben David at the Conservatoire National de Boulogne-Billancourt in Paris; "Flyways", a project led by Paul Winter in New York, and "The Kommeno Project" led by Guenter Baby Sommer in Germany and various countries around Europe.
In 2004 he released his first personal CD entitled "Wanderings" together with the singer Dora Petridis. "The message of the prince" was followed in 2008 (in cooperation with Ch. Galanopoulos). His work includes also music for theatre. His work on rebetika includes the book "Rebetika songs of the Inner War period" firstly published in 2007 by Fagotto Publications (in cooperation with Vassilis Vantarakis) and two collaborative CDs, "Apsilies" and "Psithirizontas to rebetiko".
Ourania Lampropoulou was born in Athens. She studied Byzantine music, piano, harmony, analysis, orchestration and orchestra conducting in Athens and Paris. Her santouri studies took the form of an apprenticeship next to the virtuoso player, Tasos Diakogiorgis. She also studied musicology and anthropology of music (BA, MA) at the University of Athens. She is Ph.D. Candidate in the Department of Arts (Paris 8 University).
She taught the santouri, music ensembles and organology at the Department of Traditional Music (Technological Educational Institute of Epirus), the Department of Music Science and Art (University of Macedonia) and at the National Conservatory in Athens.
As a santouri player she has teamed with bands of traditional and art music, as well as with symphonic orchestras and ensembles of contemporary music in Greece and abroad. She has taken part in recordings of Greek traditional, art and contemporary music, as well as in recordings for television, theatre and cinema productions.
Since 2010 she lives permanently in Paris, where she has been working on orchestrations and orchestra conducting. As a performer she teams with groups of traditional, ancient and contemporary music.

What is Rebetiko?: Rebetiko is the music of an urban sub culture of musicians called "rebetes". Although they openly emerged in Greece in the 1920's, rebetiko music is a rich synthesis of music from all over Greece that expresses the pain and suffering of the people at the time. In a heartfelt way of reflecting life, these songs can be full of humour and profound beauty.
Rebetiko Carnival 2016: The Rebetiko Carnival will be taking place throughout the month of June to celebrate the music of rebetiko. It will bring together people from different backgrounds and nationalities through their common love for this music, performing concerts and providing workshops.
Outreach work for people with special needs, the elderly, and participants in hospitals is a huge part of the festival. Providing access to the music for those who are not able to attend. We will also be working closely with schools to promote awareness of the music and its culture to children, in turn helping them to create their own bands whilst also giving them the opportunity to perform in the festival.